U.S. consumer sentiment is cratering: per the Index of Consumer Sentiment, conducted by the University of Michigan, the metric has fallen beneath even the Global Financial Crisis and the stagflation peak of the 1980s. In 2022, consumers are expressly worried about excessive inflation and a forthcoming economic downturn. The consumer environment is on shakier ground, especially following the major bankruptcy of Revlon, Inc. 
A well-prepared risk professional will find that utilizing the CreditRiskMonitor® FRISK® score – 96% accurate in assessing public company bankruptcy – goes a long way in accurately predicting the next group of dominoes to fall in the consumer cyclical sector.
A Bankruptcy Wave is Cresting
American consumers have been feeling the squeeze of inflation that shrinks the wallet share for discretionary purchases. Not only is consumer sentiment collapsing, but real wage growth has also been steadily declining. 
Direct consequences are already accruing. In fact, the U.S. retail trade industry aggregate (SIC 52-59) has a FRISK® Stress Index of 2.38x, well above the long-term average of 1x, which also reflects the highest proportion of FRISK® score "red zone" retailers in the last 15 years. The FRISK® red zone includes any score equal to "5" or less on the "1" (highest risk)-to-"10" (lowest risk) FRISK® score scale. 
Among the highest-risk retailers and restaurants, the FRISK® score currently highlights 11 household names with significant potential to file bankruptcy between now and the summer of 2023:
| | | |
| --- | --- | --- |
| Company | Industry | FRISK® score |
| Tuesday Morning Corporation | Retail (Department & Discount) | 1 |
| Party City Holdco Inc. | Retail (Specialty) | 1 |
| Bed Bath & Beyond Inc. | Retail (Specialty) | 1 |
| RealReal, Inc. | Retail (Catalog & Mail Order) | 1 |
| Torrid Holdings Inc. | Retail (Apparel) | 1 |
| Wayfair Inc. | Retail (Catalog & Mail Order) | 1 |
| Carrols Restaurant Group Inc. | Restaurants | 1 |
| Red Robin Gourmet Burgers, Inc. | Restaurants | 2 |
| Rite Aid Corporation | Retail (Drugs) | 2 |
| Express, Inc. | Retail (Apparel) | 2 |
| JoAnn, Inc. | Retail (Specialty) | 2 |
More than 67% of all public company bankruptcies classify as a FRISK® "1" or "2" at least three months before filing bankruptcy. FRISK® scores are as of July 29, 2022.
Discount retailer Tuesday Morning Corporation emerged from bankruptcy in 2020 but has never truly recovered financially. In early May 2022, its FRISK® score was downgraded to a "1," which indicates a 10-to-50x higher risk of bankruptcy than the average public company. Tuesday Morning is now exploring restructuring options with consulting advice provided by Piper Sandler.
Domestic merchandise retailer Bed Bath & Beyond Inc.'s FRISK® score declined from a financially stable "7" down to the severely distressed level of "1" over the past seven months. In early 2022 specifically, subscriber crowdsourcing patterns shifted from a neutral to negative signal, which reflects its suppliers' concerns about Bed Bath & Beyond's financial condition. Real-time subscriber crowdsourcing research patterns have significantly improved the FRISK® model's timeliness and accuracy, especially among the riskiest score categories.
Image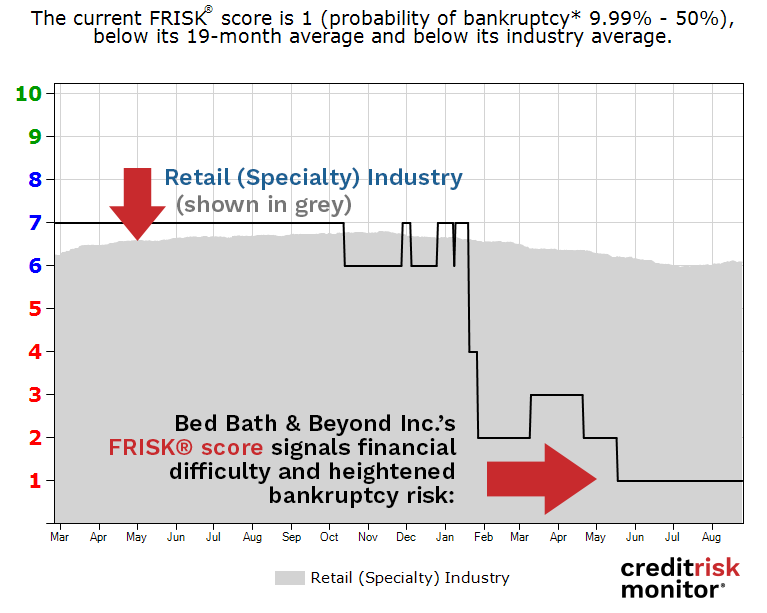 The company's troubles compounded further in May as its dismal Q1 revealed a 25% revenue decline and $358 million net loss. Moody's Investors Service also lowered the company's credit rating to Caa2 while providing detail on its bloated inventory channels and unfavorable product mix:
"Inventory levels are not only elevated and misaligned with sales trends but are overweighted to private label product which must be cleared and replaced with national brands in the face of weaker consumer demand."
Bed Bath & Beyond also reported a string of executive resignations, including its CEO, Chief Merchandising Officer, and Chief Accounting Officer. Executive turnover is a red flag given its regular occurrence in the quarters leading up to an eventual bankruptcy filing.  
Specialty retailer Party City Holdco Inc.'s FRISK® score has trended between "1" and "2" over the past year. In May, the company reported Q1 results that showed operating income swinging to an operating loss year-over-year and its net losses nearly doubled. The company also disclosed that it entered into a seventh amendment to its asset-backed credit agreement that comprised multiple provisions, including a tighter springing covenant requiring additional excess availability on the ABL Facility. Credit amendments, combined with a poor FRISK® score, also routinely transpire before bankruptcy.
Bottom Line
The challenged consumer environment will continue to pressure retailers and restaurants, which spells trouble for the collective group but especially for operators with red zone FRISK® scores. As credit conditions tighten and consumer demand wanes, highly leveraged bankruptcy restructurings may even evolve into liquidations – recall the Chapter 7 case with Pier 1 Imports, Inc. Such events would call for even stricter credit processes given receivable losses are often more significant and the customer may cease to exist. In effect, trade creditors need to be intentional about their policy actions today to avoid losing millions. 
For more information on how the FRISK® score can protect your receivables portfolio, contact us to see how credit and finance departments easily integrate our solutions into their workflows.