While the English economy is hearty in 2019, seceding from the European Union – Brexit – would greatly impact business activity. Executives voice concern about the prospects of falling sales and rising operating costs. CreditRiskMonitor® recommends that risk professionals track financially distressed U.K. companies, a few of which we detail below.
CreditRiskMonitor® is a leading web-based financial risk analysis and news service designed for credit, procurement, supply chain and financial professionals. Subscribers include those employed by more than 35% of the Fortune 1000 and many other large corporations internationally. A few features of the CreditRiskMonitor® service include:
Credit coverage spanning more than 56,000 companies worldwide
The FRISK® score, which identifies financial stress and failure risk with 96% accuracy
News alerts, financial ratio analysis, and credit agency ratings and evaluations
Looking Forward
Brexit was announced back in June of 2016 and no decision has been made about the path of its withdrawal. Companies have been most worried about potential disruption to trade and logistics. Effectively, the three options are available to the government include making a deal (modest impact to supply chains), no deal (significant impact to supply chains) or a second referendum (reconsideration of Brexit). 
In April 2019, no proposal received a majority vote. Therefore, the U.K. and the EU agreed to extend their deadline until Oct. 31 for making a decision. Economists from BNP Paribas, one of the largest international banks, stated that "a deal (and likely a softer Brexit) still seems more likely than not…" according to a recent Reuters report. 
A soft Brexit would limit the disruption to supply chains – yet consensus shows that many industries will still be negatively affected. Broadly speaking, companies in the sectors of consumer goods, industrial goods and basic materials will be challenged. Some companies will handle the consequences of Brexit, but financially distressed operators may not be as capable.
Distressed Companies
CreditRiskMonitor® provides timely warnings to professionals about the financial risk level within their portfolio of commercial suppliers and customers. The FRISK® score is based on a "1" (highest risk)-to-"10" (lowest risk) scale. The model identifies if a business is financially distressed when a score falls into the high-risk "red zone," as shown in the chart below:
Image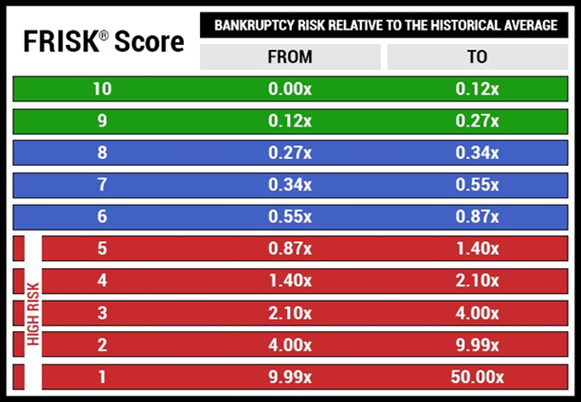 Debenhams plc, a large English retail chain, had a FRISK® score of "1" prior to its filing for Administration. Management mentioned material concerns related to Brexit: "…the direction of Brexit negotiations will also affect confidence and, therefore, willingness to spend." In fact, U.K. store traffic experienced an immense decline in the most recent fiscal year, which caused a squeeze on operating cash flow. This outcome is an example of how political risk has caused disruption and even led to corporate failure. Fortunately, the FRISK® score on Debenhams provided subscribers with 12 months advanced notice to adequately adjust exposure:
Image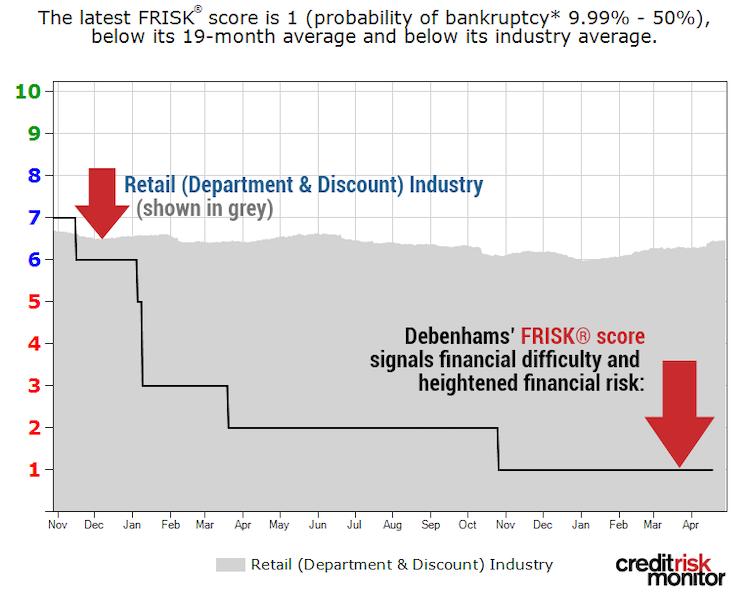 Venator Materials plc, a manufacturer of titanium dioxide and other chemical products, currently maintains a FRISK® score of "2." In the last fiscal year, almost half of the company's sales were to European customers. Management publicly voiced their thoughts on the specter of Brexit: "40% [of sales come] from continental Europe...Brexit could have a negative impact on our future operations, operating results and financial condition." Venator has already posted net losses in four of the last five fiscal years, so its performance should be monitored going forward.
Chamberlin plc, an iron castings and engineering company, also maintains a FRISK® score of "2." The company reported record debt in its most recent fiscal quarter, which pushed its total debt-to-EBITDA above five times. Its creditworthiness will be pressured should operating profit deteriorate any further.
Bottom Line
Brexit uncertainty has reduced business confidence in the U.K. and future operating performance will be affected, regardless of which way the final decision goes. CreditRiskMonitor®'s FRISK® score covers more than 1,200 U.K. companies and tens of thousands around the world, conveniently allowing you to monitor all of your risk in one place.