In August, Bloomberg reported Bed Bath & Beyond Inc.'s suppliers halted merchandise shipments because of past due payments, based on a Pulse Ratings survey. As an alternative to conducting surveys, CreditRiskMonitor hustles for more evidential proof of financial risk by leveraging a unique Trade Contributor Program and collecting accounts receivable data which totals more than $2.5 trillion annually. 
Bed Bath & Beyond Inc.'s trade receivables show that suppliers experienced substantial past-due payments four months earlier than the Pulse Ratings survey showed. The Altman Z''-Score, similar to other predictive risk models, also signals that Bed Bath & Beyond Inc. is financially healthy. However, the FRISK® score's downgrade to high-risk beat both to the punch, promptly warning subscribers of financial distress in January:

In this write-up, we explain how CreditRiskMonitor®'s timely data and advanced warning systems help subscribers daily.
CreditRiskMonitor is a B2B financial risk analysis platform designed for credit, supply chain, and other risk managers. Our service empowers clients with industry-leading, proprietary bankruptcy models including our 96%-accurate FRISK® score for public companies and 80+%-accurate PAYCE® score for private companies, and the underlying data required for efficient, effective financial risk decision-making. Thousands of corporations worldwide – including nearly 40% of the Fortune 1000 – rely on our expertise to help them stay ahead of financial risk quickly, accurately, and cost-effectively.
Back to top
Keep Trade in Perspective
While Bed Bath & Beyond Inc.'s supplier payment issues have been a hot topic of media discussion in recent months, our advice is trade creditors cannot strictly rely upon subjective surveys chronicling how other vendors feel about a particular company. It is simply bad credit policy. Instead, smart professionals leverage real-time data to guide their risk management decisions.
Bed Bath & Beyond Inc. consistently showed timely payments on a dollar-weighted basis over the last two years; however, the proportion of past due trade payments eventually increased. In April, our trade payment data showed 48% of invoices were past due versus its historical average of 25%. Three months later in July, more than half of all reported trade payments were past due: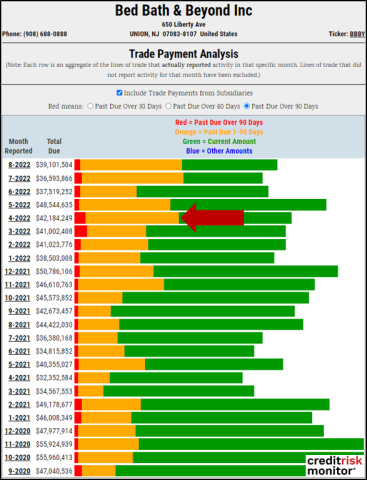 It is possible that one or multiple of the following actions occurred involving the company's trade credit: 
Bed Bath & Beyond intentionally slowed payments to suppliers to conserve cash
Subscribers tightened or withdrew credit terms to mitigate risk
Credit insurers reduced or eliminated coverage
Public companies generally follow a golden rule to pay invoices promptly to remain in good standing with suppliers and ensure product availability. However, payment behavior is misleading for public companies as they often "manage" payment terms to be perceived as low risk, which is colloquially sometimes called The Cloaking Effect. Considering this phenomenon, the April rise in past due payments becomes even more alarming.      
Even recognizing the payment issue, Bed Bath & Beyond Inc.'s Altman Z''-Score continues to trend in the financially sound territory. This "healthy" trend primarily derives from Bed Bath & Beyond's historically strong profitability prior to the fiscal year ending Mar. 2, 2019, which produced its large retained earnings balance. This reading of retained earnings relative to total assets, along with other balance sheet factors, buoyed the Altman Z''-Score's financially sound output. However, knowing that Bed Bath & Beyond's financial health is actually poor, as denoted by the FRISK® score of "1," raises an important consideration. Many credit bureaus and company internal risk models use elements of the Altman Z''-Score and similar financial information. Some suppliers are possibly providing generous credit extensions based on the faulty assumption that Bed Bath & Beyond is in good financial standing. Rather than using trade payments or financial statements alone, we have found that the FRISK® score's predictions vastly outperform on both timing and accuracy.
Back to top
Valuable FRISK® Score Insights
Unlike traditional payment or financial-based models, the FRISK® score jointly considers four high-quality data factors, including stock market performance, financial statement ratios, credit agency ratings, and subscriber crowdsourcing. Asymmetric from any of the other inputs and not reflected in public data, subscriber crowdsourcing taps into actual risk professional research patterns on the CreditRiskMonitor service. By integrating this unique information into the FRISK® score, we have observed direct improvement in bankruptcy predictions. 
In fact, subscriber crowdsourcing improved the model's risk classification by increasing the percentage of bankruptcy filings in the lowest FRISK® score categories of "1" and "2," as shown below: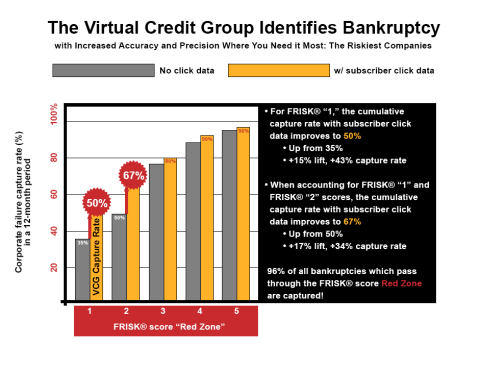 Over the course of 2022, real-time subscriber crowdsourcing patterns negatively affected Bed Bath & Beyond Inc.'s FRISK® score well before the Trade Contributor data highlighted a spike in late payments: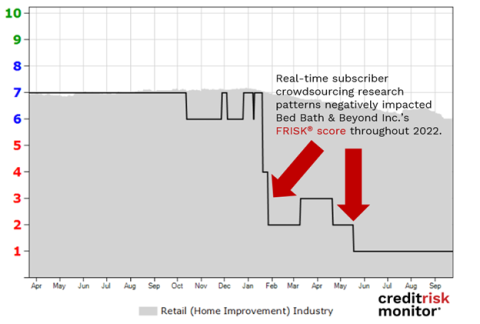 Remember trade creditors collectively control Bed Bath & Beyond Inc.'s product availability and inventory financing. The fact that the company could not maintain such merchandise supply continuity is certainly troubling. The next shoe to drop would be if additional suppliers cut credit terms that would reduce liquidity, increase financing costs, and accelerate the path to bankruptcy. For more information on Bed Bath & Beyond Inc., please review our recently published High Risk Report.
Back to top
Bottom Line
Although payment patterns and the Altman Z''-Score have provided subpar evaluations of Bed Bath & Beyond Inc.'s financial health, the FRISK® score provided an early and accurate assessment. Subscriber crowdsourcing helps trade creditors evaluate risk and make more effective business decisions. Keep in mind that Bed Bath & Beyond is only one financially distressed company that may be caught in the next corporate bankruptcy cycle. Keep yourself informed and join other risk professionals to improve collections, write-downs, and cash flow performance. Contact us to see how the FRISK® score, the Trade Contributor Program, and other solutions will benefit your processes.
Back to top