With the summer ending, 2020 has already proven as an extreme case study for why financial risk analysis is so important, with continuing bankruptcy pressure on public companies as they end Q4 in tenuous positions. The global coronavirus pandemic has forced credit and procurement professionals alike to reevaluate what it means to monitor financial risk and scrutiny of the balance sheet has taken priority while bankruptcies and administrations have soared. Here is a look at what has gone wrong so far internationally based on CreditRiskMonitor®'s extensive global public company database.
Bankruptcy by Industry
More than 200 public companies covered by the FRISK® score have declared bankruptcy since Jan. 1 with an approximately 50-50 split between U.S. and internationally domiciled firms. Every single one of those bankruptcies affects the suppliers (upstream) and customers (downstream) doing business with the bankrupt name. Indeed, a single bankruptcy can have ripple effects far beyond its own business as industry-wide supply chains are disrupted. 
Energy demand plummeted in the face of the economic shutdowns used to slow the spread of COVID-19. Retailers impacted by the same shutdowns were also hard hit when revenues at physical locations came to a halt. Airlines suffered mightily with travel falling tremendously and uncertainty limiting future demand. The vast majority of foreign bankruptcies came from the airline industry. Biotech was torched, as many operators are pre-revenue and highly dependent on one or a small list of development-stage drugs. Interestingly, some of those companies were tied to the cannabis industry, which has finally started to shake out after years of rapid growth and initial investor enthusiasm.
The common thread in virtually all the largest bankruptcies was operating performance weakness in combination with an excessive amount of financial leverage. Some examples will illustrate, as companies with too much debt lacked the flexibility to maneuver in difficult times. The outcome is often a trip through bankruptcy court to stave off creditors, a move that often has painful financial impacts on suppliers and customers. The year is far from over and the economic fallout from COVID-19 has yet to stabilize, so there will be more bankruptcies to come in 2020 and 2021 as financially strained companies succumb to the prolonged effects of the pandemic.
Large Failures & High Risks
On the retail front, one of the more notable foreign bankruptcies in 2020 was Mexican retailer Grupo Famsa SAB de CV. CreditRiskMonitor's FRISK® score had been highlighting this company as a heightened bankruptcy risk for more than a year, with a worst-possible score of "1." That score indicates a 10-to-50x greater risk of bankruptcy than the average public company. Grupo Famsa ranked in the bottom quartile of its peers for interest coverage and several leverage metrics. With a total debt-to-assets ratio of 84% and short-term debt accounting for over 70% of its total debt obligations, Grupo Famsa's business couldn't withstand the hit from the COVID-19 shutdown.
Image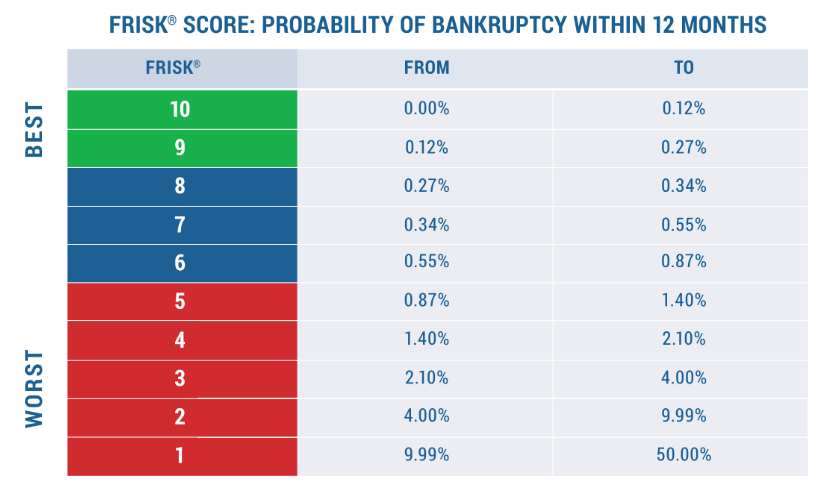 A FRISK® score of "1" is an important warning sign and an ongoing theme in the 2020 bankruptcies discussed here. Keep in mind that bankruptcy is a process, with CreditRiskMonitor®'s warnings coming well in advance of the final event. Around 96% of companies that eventually go bankrupt pass through the high-risk "red zone" of the FRISK® score, which is the lower half of the range. Subscribers receive email alerts as companies in their portfolios fall through this high-risk category. The proprietary FRISK® score, used by over 35% of the Fortune 1000 plus thousands of other companies worldwide for evaluating the financial risk of their counterparties, dynamically integrates stock market performance, financial statement ratios, bond agency ratings, and subscriber crowdsourcing, to provide industry-leading predictive accuracy and timely alerting of the bankruptcy risk at public companies around the world.
Grupo Aeroméxico SAB de CV and Virgin Australia Holdings Ltd both notable names in the air travel space that succumbed to corporate failure had also fallen to bottom-rung FRISK® scores of "1" months in advance of their respective collapses. Certain leverage metrics were mired in the bottom quartile of their peer group. The total debt-to-assets ratio at Virgin Australia ballooned to 79% by the end of 2019 and Grupo Aeroméxico's ratio reached 67% in Q1 of 2020. Both airlines had been bleeding red ink pre-crisis, but with demand for air travel in freefall, neither could continue to shoulder their heavy debt burdens. 
Looking to the future in the air transportation space, there does not appear to be any easy solutions. CreditRiskMonitor® has been keeping a close eye on Canada's Bombardier, Inc., a major industry supplier, and Brazilian airline GOL Linhas Aereas Inteligentes SA, both of which are working with heavy debt loads and have FRISK® scores of "1". Until a safe and effective COVID-19 vaccine is available, the air transportation industry is likely to remain under intense pressure.
Below are four international public companies that carried bottom-rung FRISK® scores several months before filing:
| | | | |
| --- | --- | --- | --- |
| Company | FRISK® score | Industry | Country |
| Grupo Famsa SAB de CV | 1 | Department Stores | Mexico |
| Grupo Aeroméxico SAB de CV | 1 | Airline | Mexico |
| Virgin Australia Holdings Ltd. | 1 | Airline | Australia |
| Technicolor SA | 1 | Motion Pictures | France |
France's Technicolor SA, which provides services to the media and entertainment industry, also felt the strain of COVID-19, as production on video entertainment came to a standstill. The company's FRISK® score slid to the worst-possible score of "1" over the past year. Once again, the core problem was the heavy use of debt financing, with many leverage ratios falling to the bottom end of its peer group. With Technicolor already suffering through net losses in 2019, the damage from the pandemic proved too much to bear. Technicolor, which we highlighted in a High Risk Report in April, threw in the towel on June 22.
Bottom Line
The takeaway from these bankruptcies and corporate failures that have transpired in the international space should be clear: heavy leverage severely limits a company's ability to deal with adversity. The FRISK® score provides a vital and early warning of financial risk so that counterparties can recognize it well before it is too late. Contact CreditRiskMonitor today to learn how our foreign coverage can help you stay ahead of financial risk before it impacts your company's top and bottom lines.