Bankruptcies: 2018's Biggest Names and Trends
01/08/2019
The CreditRiskMonitor FRISK® score provided highly accurate, advanced signaling of financial peril for nearly every major U.S. public company bankruptcy in 2018. For those new to our company's offerings, our proprietary FRISK® score was formulated more than a decade ago to assess bankruptcy risk in public companies within a 12-month window. In 2017 and 2018 combined, the FRISK® score provided warning for just shy of 98% of all U.S.-based public companies which met bankruptcy.
These corporations spanned many industries, but primarily came from high-profile sectors such as oil & gas, healthcare and retail. Armed with the FRISK® score, CreditRiskMonitor remains vigilant as ever in aiding our subscriber base – risk professionals in credit, procurement and treasury departments, representing more than 35% of the Fortune 1000 – stay ahead of bankruptcy risk for years to come.
CreditRiskMonitor's Bankruptcy Case Studies and High Risk Reports help to further demonstrate the power of the FRISK® score, identifying notable financially strained companies and are free to access. High Risk Reports review companies that the FRISK® score flags as experiencing extreme financial stress but that have not (yet) filed for bankruptcy. Bankruptcy Case Studies, meanwhile, provide historical context and a step-by-step review of the subject company's troubles leading up to its eventual bankruptcy filing. Each Bankruptcy Case Study is a perfect postmortem teaching tool for risk professionals.
Diving deeper into the FRISK® score, it measures financial stress based on a "1" (most-risky) to "10" (least-risky) scale. Any company with a score which is equal to or less than "5" is known to be in the FRISK® score "red zone;" looking forward, a red zone company should be viewed as an above-average risk of bankruptcy between now and the end of 2019.
Below are 10 of the largest corporate bankruptcies of 2018 in the U.S., as determined by total liabilities. Each of these companies had fallen to a worst-possible FRISK® score of "1" before they filed:
| | | | | |
| --- | --- | --- | --- | --- |
| Company Name | Bankruptcy Filing Date | Total Liabilities (quarter filing preceding bankruptcy; in thousands) | Industry | Special Reports Issued |
| iHeartMedia, Inc. | Mar. 14, 2018 | $24,049,108 | Broadcasting & Cable TV |   |
| Sears Holdings Corporation | Oct. 15, 2018 | $11,339,000 | Retail Department & Discounts | Bankruptcy Case Study |
| FirstEnergy Solutions Corporation | Mar. 31, 2018 | $7,584,400 | Electric Utilities |   |
| Claire's Stores, Inc. | Mar. 19, 2018 | $2,515,561 | Retail Accessories | Bankruptcy Case Study |
| Westmoreland Coal Company | Oct. 9, 2018 | $2,133,291 | Coal Mining | High Risk Report / Bankruptcy Case Study |
| EXCO Resources, Inc. | Jan. 15, 2018 | $1,590,540 | Oil & Gas Operations |   |
| The Bon-Ton Stores, Inc. | Feb. 4, 2018 | $1,742,558 | Retail Department & Discounts | Bankruptcy Case Study |
| Cenveo, Inc. | Feb. 2, 2018 | $1,488,938 | Printing Services | Bankruptcy Case Study |
| Tops Holding II Corporation | Feb. 21, 2018 | $1,147,412 | Retail Grocery |   |
| Rex Energy Corporation | May 18, 2018 | $1,087,274 | Oil & Gas Operations | High Risk Report / Bankruptcy Case Study |
Total liabilities of these companies prior to bankruptcy amounted to just shy of $55 billion USD, representing enormous risk for creditors with unsecured claims. Again, these were merely the top 10; CreditRiskMonitor subscribers received an early warning of elevated financial stress for each company covered by the FRISK® score. Thus, in 98% of U.S. public company bankruptcies in the past two calendar years, CreditRiskMonitor subscribers had ample time – as much as a year – to mitigate risk by adjusting the way in which they dealt with troubled customers and suppliers.
Image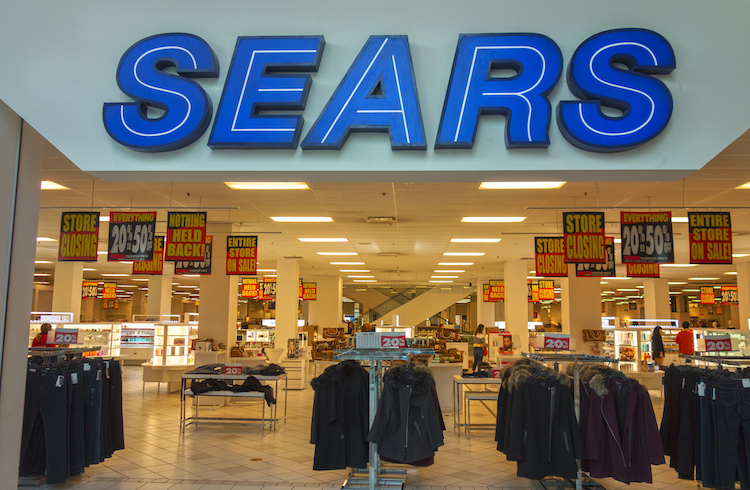 Reviewing Notable Public Failures
Sears Holdings Corporation represented the largest retail bankruptcy of 2018. The company filed for Chapter 11 in the beginning of the holiday season after failing to pay its suppliers. Sears held more than $11 billion in liabilities on its balance sheet, encompassing merchandise payables, debt and pension obligations, among other items. The once-mighty Chicago-based giant is now in bankruptcy court proceedings while it continues to rapidly liquidate inventory and close store locations. Certain creditors, including banks, have pushed for the business to liquidate rather than commit to a financial restructuring. Regardless of the direction the situation takes, unsecured creditors have been exposed to slow payment and substantial financial loss. 
Cenveo, Inc. (now known as Cenveo Worldwide Limited) was a major failure in the printing space. This business was highlighted in mid-to-late 2017 as an extremely risky operator by CreditRiskMonitor's FRISK® score and subscriber crowdsourcing behavioral data. This information effectively warned that bankruptcy risk was elevated, and Cenveo filed shortly thereafter in February 2018. Counterparties were subject to risk; in that regard, the U.S. Government Public Office decided to cancel its contract with Cenveo. Following the bankruptcy restructuring, more than $800 million in debt was also wiped out.
Rex Energy Corporation was an oil and gas shale business that suffered from production challenges and excessive leverage. It was unable to achieve cash flow breakeven and ultimately defaulted on its debt. In May 2018, the business voluntary filed for Chapter 11 bankruptcy, with total liabilities approaching $1.1 billion. By November 2018, the bankruptcy court confirmed an amended plan of liquidation according to an 8-K filed by the company. This option is often pursued to maximize recovery values on credit, although some unsecured parties are expected to receive little to no claim on assets. The significant decline in the crude oil prices during the fourth quarter of 2018 may make the outcome of the liquidation process even worse than originally anticipated.
Bottom Line
CreditRiskMonitor tracks public company bankruptcy risk in real-time with its proprietary FRISK® score. Updated on a daily basis, this nearly flawless indicator provided a prompt warning in each of the 10 largest bankruptcy situations of 2018. These 10 companies alone had $55 billion in total liabilities. When dealing with bankruptcy, an early warning of the degree of risk can protect you from a great deal of pain. All risk professionals – including ones in credit, supply chain and finance – must be aware of the bankruptcy risk prevalent within public companies. 
That's especially true today since, unfortunately, the financial losses of 2018 are only the tip of the iceberg for what will transpire in the next economic contraction. In 2019, CreditRiskMonitor will continue to provide the many tools our subscribers need to protect themselves.