CreditRiskMonitor®'s proprietary FRISK® score and global coverage of 57,000 public companies allows subscribers to quickly and accurately track risk exposure, simply done by counting from "1" to "10." The FRISK® score is calculated every day precisely so that users receive the most up-to-date measure of risk on their commercial counterparties. In total, about one-third of all FRISK® scored public companies globally are trending in the "red zone," the bottom half of the scale. Companies within this category have elevated financial stress and failure risk. 
CreditRiskMonitor® subscribers, which include risk professionals employed by more than 35% of the Fortune 1000 and many other large corporations worldwide, have many resources at their disposal to protect against counterparty risk exposure. Additional key features of the CreditRiskMonitor® service include predictive financial risk models, proprietary subscriber crowdsourcing, bond agency ratings and commentary, timely news alerts, standardized financial statement spreads, peer analysis and many other useful tools. Most importantly, the FRISK® score is a simple-to-use first line of defense that will keep you prepared for the next economic crisis.
*As backtested on U.S. public companies; results may vary for private companies and by country. All references to the FRISK® score's accuracy on the CreditRiskMonitor® website are qualified by this statement.
Image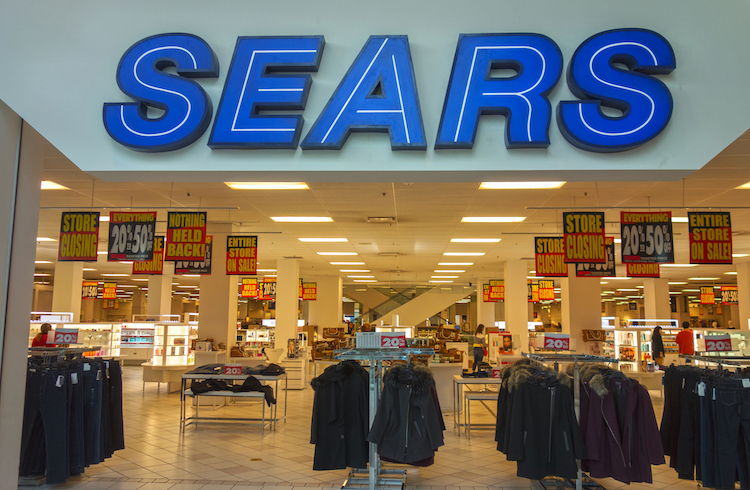 Reviewing Notable Public Failures
Sears Holdings Corporation represented the largest retail bankruptcy of 2018. The company filed for Chapter 11 in the beginning of the holiday season after failing to pay its suppliers. Sears held more than $11 billion in liabilities on its balance sheet, encompassing merchandise payables, debt and pension obligations, among other items. The once-mighty Chicago-based giant is now in bankruptcy court proceedings while it continues to rapidly liquidate inventory and close store locations. Certain creditors, including banks, have pushed for the business to liquidate rather than commit to a financial restructuring. Regardless of the direction the situation takes, unsecured creditors have been exposed to slow payment and substantial financial loss. 
Cenveo, Inc. (now known as Cenveo Worldwide Limited) was a major failure in the printing space. This business was highlighted in mid-to-late 2017 as an extremely risky operator by CreditRiskMonitor®'s FRISK® score and subscriber crowdsourcing behavioral data. This information effectively warned that bankruptcy risk was elevated, and Cenveo filed shortly thereafter in February 2018. Counterparties were subject to risk; in that regard, the U.S. Government Public Office decided to cancel its contract with Cenveo. Following the bankruptcy restructuring, more than $800 million in debt was also wiped out.
Rex Energy Corporation was an oil and gas shale business that suffered from production challenges and excessive leverage. It was unable to achieve cash flow breakeven and ultimately defaulted on its debt. In May 2018, the business voluntary filed for Chapter 11 bankruptcy, with total liabilities approaching $1.1 billion. By November 2018, the bankruptcy court confirmed an amended plan of liquidation according to an 8-K filed by the company. This option is often pursued to maximize recovery values on credit, although some unsecured parties are expected to receive little to no claim on assets. The significant decline in the crude oil prices during the fourth quarter of 2018 may make the outcome of the liquidation process even worse than originally anticipated.
Bottom Line
CreditRiskMonitor® tracks public company bankruptcy risk in real-time with its proprietary FRISK® score. Updated on a daily basis, this nearly flawless indicator provided a prompt warning in each of the 10 largest bankruptcy situations of 2018. These 10 companies alone had $55 billion in total liabilities. When dealing with bankruptcy, an early warning of the degree of risk can protect you from a great deal of pain. All risk professionals – including ones in credit, supply chain and finance – must be aware of the bankruptcy risk prevalent within public companies. 
That's especially true today since, unfortunately, the financial losses of 2018 are only the tip of the iceberg for what will transpire in the next economic contraction. In 2019, CreditRiskMonitor will continue to provide the many tools our subscribers need to protect themselves.