You'd be hard-pressed to find technology industry followers sweating over loss and leverage in 2018. On the whole, the sector is flush with cash and seeing a surge in new frontiers (growth in India comes immediately to mind).
From a top-down perspective, counterparties worried about financial risk in this particular sector are few in number – yet given the macro climate of debt in relation to GDP in the world's richest countries, that means credit managers are navigating a sea of unsecured tech creditors who are ill-prepared for jarring credit contraction. Working in an overall healthy industry like technology makes it easy to overlook important warning signs of financial risk. With a large number of accounts to keep track of, risk factors tend to fall between the cracks in industries that aren't generally worrisome.
CreditRiskMonitor®'s proprietary FRISK®️ score, used by more than 35% of companies in the Fortune 1000 and covering more than 58,000 globally, is highlighting some tech names that need to be monitored closely right now.
A First Line of Defense with the FRISK®️ Score
The FRISK®️ score provides the first line of defense, regardless of industry health, highlighting financially weak companies. Incorporating stock market capitalization and volatility data, bond agency ratings from Moody's, Fitch, DBRS and Morningstar Credit Ratings, financial ratios such as the Altman Z"-Score and crowdsourced subscriber behavioral data, the FRISK®️ score blends it all into an easy-to-follow scoring system for public company bankruptcy risk: "10" for the healthiest companies, down to "1" to indicate a company with up to a 50% chance of going bankrupt in the coming 12 months.
A score between "5" and "1" on the scale – which we call the FRISK®️ score "red zone" – indicates heightened bankruptcy risk. 96%* of all companies that go bankrupt pass through the red zone prior to filing. These are the companies you need to monitor with regularly immediately, lest you leave yourself exposed to titanic losses.
With the help of the FRISK®️ score, we've highlighted three cloud-based operators within the larger technology realm that pose higher-than-average bankruptcy risk.
Image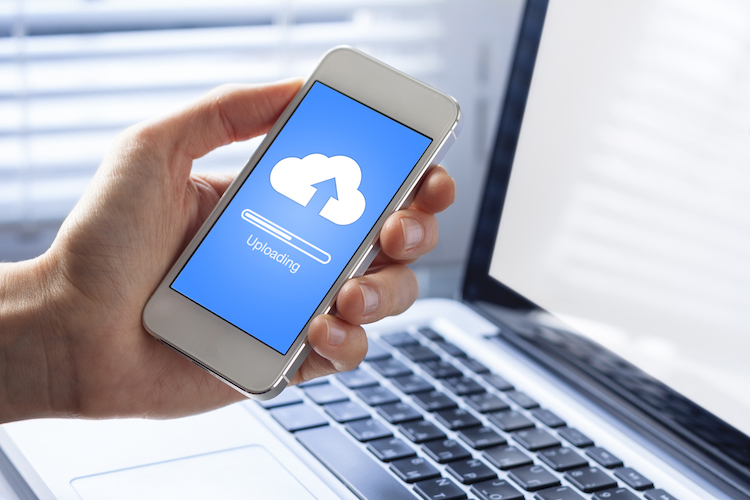 Minneapolis-based Ceridian HCM Holding Inc. provides cloud-based human resources services to companies in the U.S. and Canada. The company has held a FRISK®️ score of "3" for the last six months, placing it squarely within the red zone. For comparison, the broader software & programming industry has a healthy average FRISK®️ score of "7." 
The company, a subsidiary of Ceridian LLC, has negative tangible net worth. Its cash ratio is in the bottom quartile of its peer group, as is its total liabilities-to-equity ratio. Revenues have fallen in each of the last two quarters. And Ceridian HCM has lost money in four of the last five quarters. When the next credit contraction arrives, with the current debt climate in the U.S., this tech services provider would almost assuredly find itself facing even steeper financial stress.
Infor, Inc. provides an array of cloud-based services to companies, including a customer experience suite and supply chain management services. For more than a year, the company's FRISK®️ score has been at a "2," which indicates a 4-to-10% risk for filing bankruptcy in the next 12 months.
Although there are several factors contributing to Infor, Inc.'s low FRISK® score, the most notable is leverage. The company's total debt-to-assets ratio is 86%, which is in the bottom quartile of their peer group. And Infor, Inc. has substantial negative tangible net worth. Its cash ratio is 0.2 and its current ratio is at just 0.6. This is not a company with a solid financial foundation. Meanwhile, free cash flow has been positive for three quarters but remains weak overall. If economic conditions were to tighten, Infor, Inc. would instantly feel the pressure. 
Endurance International Group Holdings, Inc.
Providing cloud-based services like email marketing and web presence support to small- and medium-sized companies, the goal of Endurance International Group is to help these businesses succeed online. The company, however, has been struggling financially for quite some time. For the past 12 months, the company has been in the FRISK®️ red zone and currently holds a score of "4." That's well below the industry average of "7."
The company's debt-to-assets ratio is high at 70%; by comparison, the peer group median for this metric is 13%. Furthermore, Endurance International has a negative tangible net worth. Additionally, its cash ratio and current ratio are in the bottom quartile of the peer group. The company has lost money in each of the last five calendar years and in four of the last five quarters. If this public company is one of your financial counterparties you should be paying close attention to it right now since its target customers – smaller, private companies – often  bear the brunt of economic downturns.
Bottom Line
Even in a booming sector, risk looms, and it's in these industries like technology that risk is more likely to go unnoticed. With its fierce competition and fast-moving parts, things can change in the technology sector in an instant, and risk professionals painting the entire industry with the same brush will be caught off guard. Having a tool like the FRISK®️ score to provide an accurate, real-time look at a company's financial health is vital to mitigating risk and preventing loss. Today you should be keeping a close eye on Ceridian HCM Holding Inc., Infor. Inc., and Endurance International Group, each of which has a FRISK®️ score in the red zone well below the average of the generally healthy Software & Programming Industry. 
*As backtested on U.S. public companies; results may vary for private companies and by country. All references to the FRISK® score's accuracy on the CreditRiskMonitor® website are qualified by this statement.