Pending Japan Display Inc. shareholder approval later this summer, Apple Inc. will look to invest $100 million into its financially distressed supplier as part of a $738 million bailout. For Apple, providing capital support to its supply chain is an option, but for most companies bailing out critical suppliers is not financially feasible, let alone an option on the table. Is your supply chain secure? CreditRiskMonitor®helps procurement and supply chain professionals mitigate these types of problems by proactively identifying supplier financial risk.
CreditRiskMonitor® is a leading web-based financial risk analysis and news service designed for credit, supply chain and other risk professionals. Subscribers include more than 35% of the Fortune 1000 as well as many other large corporations worldwide. Important features of the CreditRiskMonitor® service include:
The FRISK® score, which is 96%-accurate in predicting public company failure risk
Public company coverage of more than 56,000 across the globe
Peer analysis, which aids in the sourcing alternative suppliers
Real Time Risk
The FRISK® score is unparalleled in terms of accuracy and will definitively tell you whether or not a public company is financially distressed. Japan Display has maintained a "red zone" FRISK® score (the bottom half of the "1" (highest risk)-to-"10" (lowest risk) FRISK® score scale) for over a year. Japan Display's current FRISK® score of "2" indicates financial stress and heightened failure risk:
Image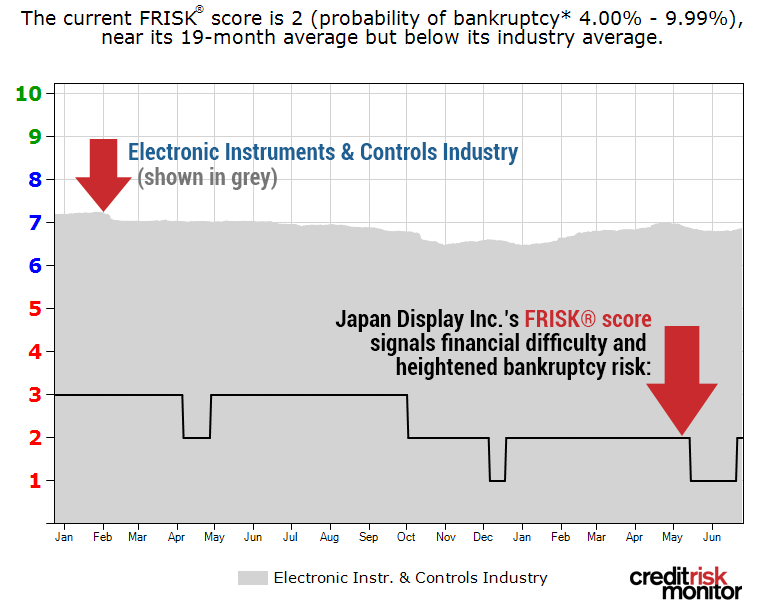 The Wall Street Journal reported that Japan Display is asking Apple for a few concessions in advance of the Aug. 29 decision, all related to financing provided to build a $1.6 billion iPhone display factory:
to loosen payment terms on the loan (~$190 million per year),
waive a portion of that debt (the outstanding amount is approximately $940 million),
guarantee future purchases, and
provide a cash infusion of up to $190 million
A consortium of Japan Display's investors and critical customers was formed to provide capital and support the above concessions. Although the extent of Apple's own proposed contribution has not been confirmed publicly, Reuters disclosed that cash commitment will be approximately $100 million or 13.5% of the bailout package if approved. Unfortunately for Apple, when dealing with critical suppliers, there is little choice but to get involved, especially with close to $1 billion in outstanding loans at Japan Display.
Effectively, Apple is taking the stance that it is better to support this weak supplier for older iPhone models than switch to a new one, a decision that would most likely not be made without the large factory loan outstanding and Apple's extraordinary liquidity (currently $225 billion in cash and marketable securities). Losing a supplier, much less a critical one, is hard to stomach, but soldiering on with a troubled supplier carries the risk of quality and deliverability issues, among other factors which can devastate a brand. All told, Apple's experience with Japan Display shows that even diverse and resilient supply chains can also experience serious problems. Are you prepared for such a situation?
Protect Your Company
The FRISK® score has highlighted Japan Display's liquidity risk for more than two years now and is a prime example of how the FRISK® score provides an excellent warning signal on financially distressed companies. For the 96% of public company bankruptcies we capture, the FRISK® provides subscribers sufficient lead time (typically 12 months, never less than three) to review a supplier's financial condition and identify alternative suppliers through CreditRiskMonitor®'s peer analysis tool. 
Supply chain professionals from all over the globe use the FRISK® score to monitor supplier financial health in a timely, accurate manner. We advise subscribers to source suppliers that are consistently rated at a "6" or above by the FRISK® score. If a supplier is in the FRISK® red zone, we suggest diligent monitoring of that company and considering onboarding alternatives before it is too late.
Bottom Line
Supplier financial risk is an oft-overlooked factor in procurement, yet it is a key factor in assessing supplier viability. Like any chain, a supply chain is only as strong as its weakest link. Don't get caught with a broken chain, call us today! 845.230.3000