Airline PT Garuda Indonesia Tbk filed for reorganization proceedings, akin to a Chapter 11 bankruptcy in the U.S., on Dec. 9, 2021. Then aircraft leasing operator, Nordic Aviation Capital A/S, filed for bankruptcy on Dec. 17. These are two of a bevy of airliners struggling to navigate the persistent ravage of the coronavirus, which has been a pandemic for nearly two full years. As we enter 2022, the swift global spread of the omicron variant could end up pushing even more air travel names over the edge. 
Below, we provide a list of highly troubled air travel companies. What's more, we'll review the trends affecting three noteworthy titans flying low, all signaling the highest risk level of bankruptcy to CreditRiskMonitor subscribers.
Travel Shutdowns
When the coronavirus pandemic began in 2020, the early reaction from governments was to shut down intercontinental travel. Shortly thereafter, countries shut down entire swaths of their own countries, asking residents to stay home unless travel was absolutely necessary.
As a consequence, leisure travel all but ceased, and highly lucrative business travel also screeched to a standstill as a work-from-home revolution began. To provide an idea of just how bad 2020 was for airlines, El Al Israel Airlines Limited's revenues fell from nearly $2.2 billion in 2019 to just $623 million the very next year. No company can easily absorb such a hit, especially operators with high fixed costs. In fact, over the past 18 months, the average FRISK® score for the broad airline industry has been trending *within* the high-risk FRISK® score "red zone", with a score of "4." El Al Israel Airlines' FRISK® score has trended even lower than that, recently hitting the worst possible score of "1", which indicates a 10-to-50x higher risk of bankruptcy compared to the average publicly traded company:
Image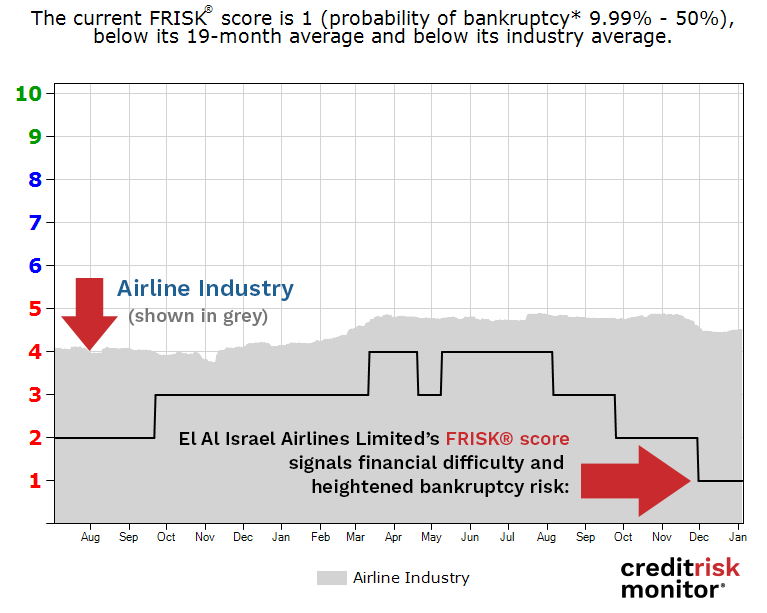 The 96%-accurate FRISK® score assesses bankruptcy risk and takes into consideration a company's financial statement ratios, stock market performance, and bond agency ratings from Moody's, Fitch, and DBRS Morningstar. It also factors in the research click pattern behavior of our subscriber base, representing key credit decision-makers at more than 35% of current Fortune 1000 companies plus thousands of other large companies worldwide. A score of "5" or less on the "1" (highest risk)-to-"10" (lowest risk) scale indicates material bankruptcy risk that needs to be monitored with added scrutiny.
Image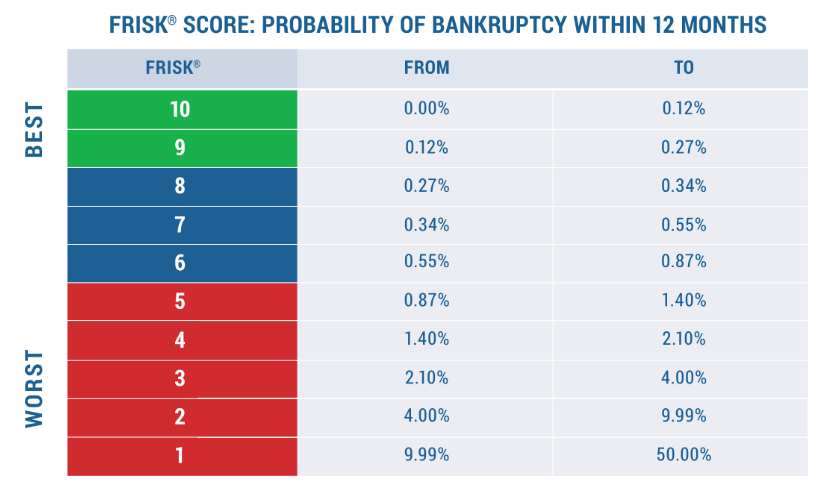 While business has improved for El Al Israel Airlines in 2021, noting that third-quarter 2021 revenue rebounded to $253 million from a scant $39 million in the same quarter of 2020, it is still operating well below pre-pandemic norms. In Q3 2019, revenue came in at $647 million. To make matters worse, as 2021 drew to a close and 2022 is underway, the Israeli government again put strict travel restrictions in place. Companies working with El Al Israel Airlines must be cautious when making a decision to work with this company. Notably, short-term debt makes up more than 60% of the airline's total debt, suggesting that there could be material near-term refinancing risk.
Distressed Operators
Some airliners are better equipped to fly through the fog, particularly by controlling costs. Financial counterparties must continuously evaluate where their biggest risks are in their portfolio and, as with El Al Israel Airlines, take proactive measures to protect themselves from exposure. The aforementioned FRISK® score is perfect to leverage within this process, as it immediately separates financially weak airlines from financially strong ones. The list below contains some of the riskiest names in the global airline industry, with a few from related industries that also deserve close monitoring:
| | | |
| --- | --- | --- |
| Airliners | Country | FRISK® score |
| El Al Israel Airlines Limited | Israel | 1 |
| Transportes Aereos Portugueses SGPS SA | Portugal | 1 |
| Azul SA | Brazil | 1 |
| SAS AB | Sweden | 1 |
| Pakistan International Airlines Corporation | Pakistan | 2 |
| Alia Royal Jordanian Airlines plc | Jordan | 2 |
| Kenya Airways plc | Kenya | 2 |
| Gol Linhas Aereas Inteligentes SA | Brazil | 2 |
| Shandong Airlines Co., Limited | China | 2 |
|   |   |   |
| Airline Related Companies |   |   |
| Garuda Maintenance Facility ArAsa Tbk PT | Indonesia | 1 |
| Aeropuertos Argentina 2000 SA | Argentina | 2 |
The story of Sweden's SAS AB is fairly similar to what's taken shape at El Al Israel Airlines. While revenues increased 90% year over year in the third quarter, they were still down 57% from the same period in 2019. That's led to steep operating losses nearly two years after the start of the pandemic. Total debt, meanwhile, is nearly three times what it was before the pandemic (short-term debt makes up roughly 80% of the load), bringing its total debt to Q4 2021 EBITDA (annualized) into double-digit territory. If the omicron variant deters passengers from flying for a long stretch in 2022, an exhausted SAS AB would be in serious trouble. For a deeper dive into the company's troubles, read CreditRiskMonitor®'s SAS AB High Risk Report.
Image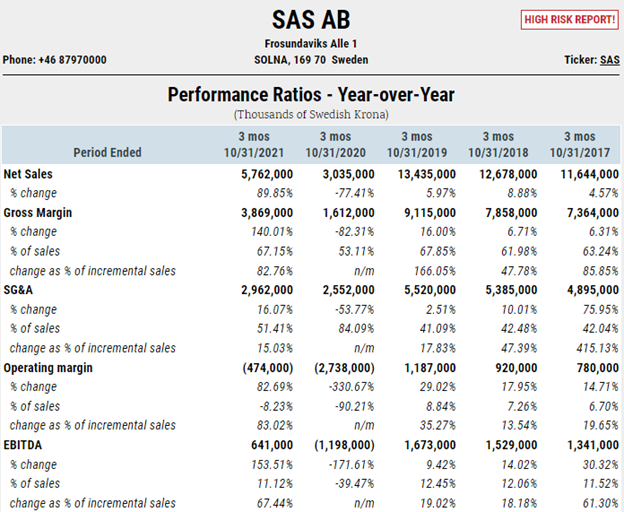 The story has been a bit different at Azul SA. This airline's revenues have come back quite strong, with Q3 2021 revenues just 10% below their 2019 level. However, leverage was higher by nearly 75%, leading to an unsustainably low interest coverage ratio in Q3 2021 of 0.2 times. With the added long-term debt (short-term debt is "only" around 17% of the total), a new variant of the coronavirus could result in more of the same, which isn't a good thing. This airliner needs to be on your watch list, too.
Image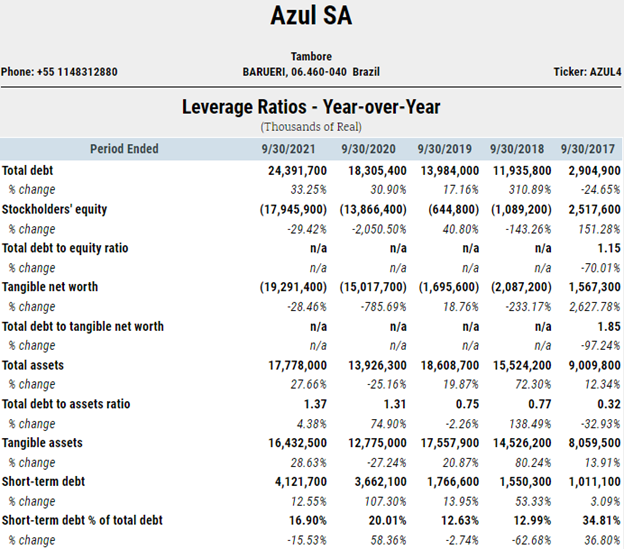 Bottom Line
The coronavirus pandemic continues to have a disproportionate impact on airlines and related companies. As a clued-in financial risk evaluator, you will need to routinely monitor your greatest risks in this troubled industry. Contact CreditRiskMonitor today to see how the FRISK® score can help you quickly and easily identify the companies that need your most urgent attention.