CreditRiskMonitor®'s FRISK® Stress Index – which measures the aggregation of financial stress across groups of public companies – today shows that the retail industry in the United States is experiencing near-record financial stress. This, even after seemingly persistent retail bankruptcies between 2016 and 2019 including the industries of apparel and accessory stores (SIC 56), home furniture and equipment stores (SIC 57), as well as miscellaneous retail (SIC 59).
All may simply be a precursor to a larger corporate retail bankruptcy trend in 2020. For example, the miscellaneous retail sector in the U.S. is more than 300% higher in risk potential than at the outset of the Great Recession:
Image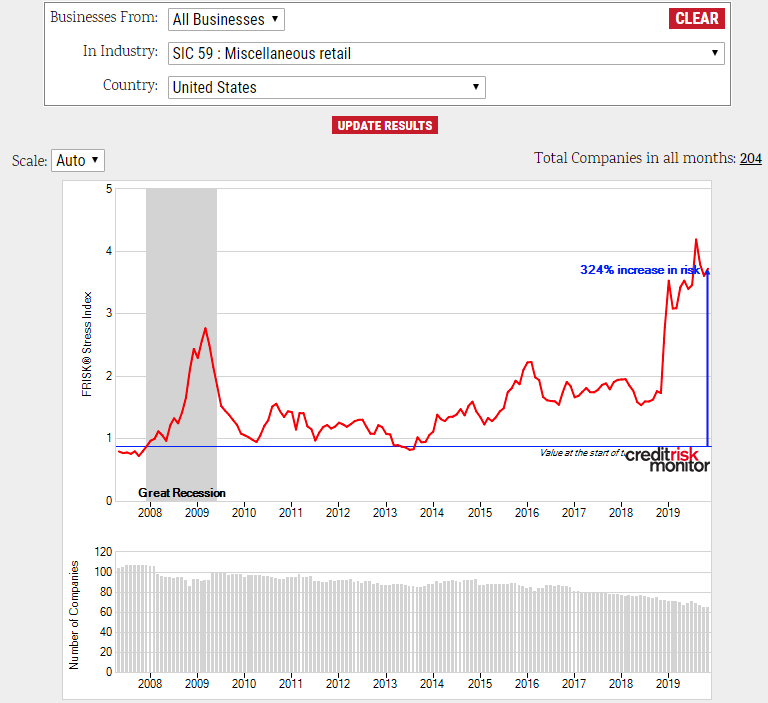 Our 96%-accurate FRISK® score, updated daily to predict bankruptcy within a 12-month window, currently features more than 50 American retailers trending with higher-than-normal bankruptcy potential. The average risk of bankruptcy for all public companies is approximately 1% per year historically: should a retailer be marked with a FRISK® score of "5" or below, that likelihood of bankruptcy between now and 2021 shoots as high as 50%.
Image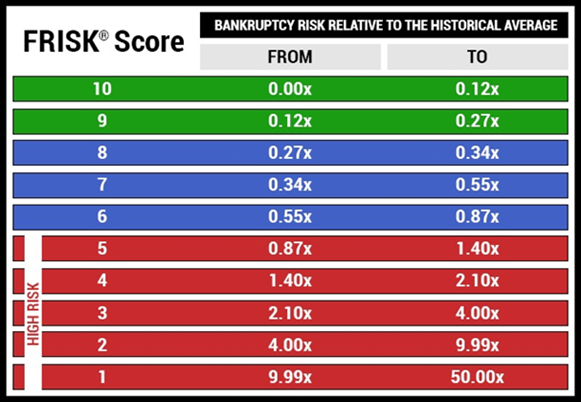 By using the FRISK® score, subscribers obtain and leverage the following information:
67% of all bankruptcies that occur trend in the "1" and "2" categories before filing
A warning signal about 12 months in advance of the filing, and at least three full months
Real-time insight into the credit worthiness of companies through the Virtual Credit Group
The Virtual Credit Group
The FRISK® score leverages our Virtual Credit Group, which includes credit professionals and senior risk officers employed by more than 35% of the Fortune 1000 and thousands of other large corporations internationally. By looking at our website click data and tracking the research behavior of this expert population, the FRISK® score is given an unparalleled uplift in timeliness and accuracy.
The four companies below carry FRISK® scores of "1," signaling a 10-to-50% higher risk of bankruptcy versus the average public company. Simultaneously, the Virtual Credit Group sent a negative signal for all four companies in late 2019. These warning signs are critical to consider for your risk assessment:
| | | |
| --- | --- | --- |
| Company | FRISK® Score | Virtual Credit Group |
| J. C. Penney Company, Inc. | 1 | Negative |
| Christopher & Banks Corporation | 1 | Negative |
| J.Crew Group, Inc. | 1 | Negative |
| Pier 1 Imports, Inc. | 1 | Negative |
CreditRiskMonitor® strongly recommends reviewing each company's management, discussion, and analysis (MD&A) particularly in the sections that cover financial covenants and liquidity. As required by Sarbanes Oxley, public company CFOs and CEOs must provide a highly transparent assessment as to whether the company will remain liquid or could default and/or file for bankruptcy.
These four companies are financially stressed and carry elevated risk of bankruptcy. So make sure your company is prepared to handle such a shock.
Bottom Line
Retail financial stress hit an all-time high in the second half of 2019, which portends that retail bankruptcies will continue and may even accelerate in 2020. Credit professionals must monitor financially stressed retailers across the industry and implement strategies to mitigate risk – otherwise your company could face substantial accounts receivable write-downs. It is imperative to prepare today for bankruptcies that may come in the near future.