2020 Visions: Largest Names in Bankruptcy, Trends For the Future
01/09/2020
Public company bankruptcies occurred across many industries in 2019 including communication services, oil & gas, transportation, and retail. Risk professionals use CreditRiskMonitor's 96%-accurate FRISK® score to isolate companies in their portfolio that are financially stressed and most likely to fail. Of the 15 largest public companies that entered bankruptcy, the FRISK® score allowed our subscribers to start managing their risk exposure up to 12 months prior to filing. 
In this group of 2019 bankruptcies, total liabilities were a staggering $82 billion:
| | | | | |
| --- | --- | --- | --- | --- |
| Company | Industry | FRISK® Score | Liabilities (in billions USD) | Bankruptcy Date |
| Reliance Communications Limited | Communication Services | 1 | $10.0 | Feb. 1 |
| DiTech Holding Corporation | Real Estate Operations | 1 | $12.3 | Feb. 11 |
| Windstream Holdings, Inc. | Communication Services | 1 | $12.1 | Feb. 25 |
| Interserve Plc | Construction Services | 3 | $2.2 | Mar. 15 |
| Hexion Inc. | Chemical Manufacturing | 1 | $4.9 | Apr. 1 |
| Debenhams Plc | Department Stores | 1 | $1.5 | Apr. 9 |
| Bristow Group Inc. | Transportation | 1 | $1.8 | May 11 |
| Legacy Reserves Inc. | Oil & Gas Operations | 1 | $1.7 | Jun. 18 |
| Monitronics International, Inc. | Business Services | 1 | $2.0 | Jun. 30 |
| Weatherford International plc | Oil Well Services | 2 | $11.5 | Jul. 1 |
| Bourbon Corporation SA | Oil Well Services | 3 | $3.3 | Jul. 26 |
| Sanchez Energy Corporation | Oil & Gas Operations | 1 | $3.1 | Aug. 11 |
| Thomas Cook Group plc | Air Transportation | 1 | $8.3 | Sept. 23 |
| EP Energy LLC | Oil Well Services | 1 | $5.0 | Oct. 3 |
| Dean Foods Company | Food Processing | 1 | $2.2 | Nov. 12 |
As we explain to our subscribers, a FRISK® score of "5" or less is an important warning signal, where a majority of companies trend in the "1" category prior to bankruptcy.
Image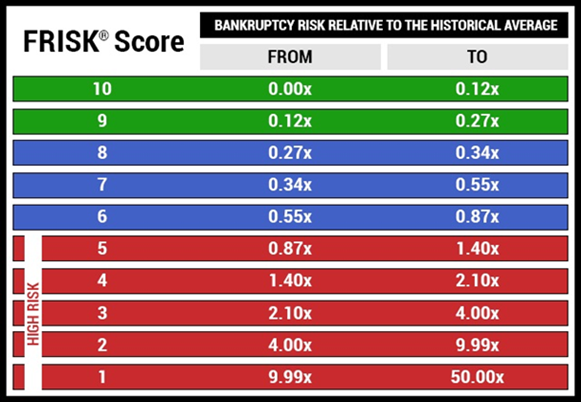 Windstream Holdings, Inc., which filed in February, failed to work through a myriad of obstacles including customer losses, underperforming acquisitions, excessive financial leverage, an underfunded pension plan, and litigation tied to a real-estate spinoff. Its FRISK® score of "1," fueled by AI subscriber crowdsourcing, indicated bankruptcy risk was 10-to-50x higher compared to the average public company. Our subscribers, who include senior risk officers from more than 35% of the Fortune 1000, offered a negative outlook on the company's financial position throughout 2018. Further review of Windstream's Management, Discussion, and Analysis (MD&A) filings on Aug. 9, 2018, and Nov. 8, 2018, revealed that its fixed charge ratio covenant was within one turn of breach. Windstream received an adverse court ruling on its real-estate spinoff and subsequently filed for Chapter 11 bankruptcy, exposing more than 100,000 creditors to repayment risk. We warned of Windstream's danger in February 2018 in a High Risk Report.
Dean Foods Company, one of the largest milk processing manufacturers in the U.S., faced rising competition from alternative products, a loss of key customers, increasing transportation cost pressures, and excessive financial leverage. The FRISK® score firmly held in the red zone and declined to "1" in March 2019, preemptively signaling its high bankruptcy risk. From that time, subscriber crowdsourcing provided a negative outlook leading up to its bankruptcy filing. Of the most concerning factors were the disclosures made in the MD&A, including amendments made to its receivables securitization facility. According to the second amendment, lenders agreed to waive compliance with its net leverage ratio and cross-default provision tied to its Revolving Credit Facility in January 2019. This adjustment showed that Dean Foods was increasingly at risk of a breach. By November, the company was forced to file for Chapter 11 bankruptcy protection. If you didn't see the risk ahead of time, our Bankruptcy Case Study provides a detailed account of what credit professionals should have reviewed.
Texas-based Sanchez Energy Corporation was one of the largest shale drillers in the United States. Low prices for crude oil, natural gas, and natural gas liquids have decimated shale exploration and production profitability. Even companies operating with large scale haven't been spared, with Sanchez standing out as a prime example. It had high production costs and needed to steadily tap debt markets. The company was eventually forced to curtail its planned drilling programs. 
Sanchez Energy's FRISK® score was among the worst risk categories of "1" and "2" in the year prior to its bankruptcy filing. Our subscriber crowdsourcing data provided a negative outlook during 2018 and 2019. Three quarters prior to its bankruptcy filing, its MD&A detailed that the company may be required to divest assets to fund existing operations: "We face continuing uncertainty with respect to the demand for our products, commodity prices, service availability, and costs, and our ability to fund capital projects…" This type of language is critical evidence that its future was in trouble. Review our High Risk Report and Bankruptcy Case Study for other factors that subscribers examined prior to its downfall.
Trends to Watch in 2020
In the United States, bankruptcy filings have been disturbingly frequent in oil & gas drilling and equipment services, driven by subdued CAPEX, declining production rates, and tightening of lending conditions. Here are six more operators that entered Chapter 11 bankruptcy last year:
| | | |
| --- | --- | --- |
| Company | FRISK® Score | Bankruptcy Date |
| Southcross Energy Partners L.P. | 1 | Apr. 1 |
| Strategic Oil & Gas Ltd. | 3 | Apr. 10 |
| ELK Petroleum Limited | 2 | May 15 |
| Dolphin Drilling ASA | 1 | Jun. 26 |
| Emerge Energy Services LP | 1 | Jul. 15 |
| Eagle Energy Inc. | 1 | Nov. 19 |
The suffering in the energy patch will likely continue into 2020, but risk professionals should also be wary of cyclical industries as well given impending recession risk. CreditRiskMonitor's proprietary FRISK® Stress Index provides a unique top-down view – measuring aggregate financial risk in any industry, geography, or portfolio – to show which groups of companies have the highest risk of failure. Since 2007, the worldwide metal mining, construction, and transportation sectors have demonstrated alarming uptrends:
Metal mining (SIC 10) risk has increased by 126%
Heavy construction (SIC 16) risk has increased by 128%
Transportation by air (SIC 45) risk has increased by 150%
Bottom Line
Public company bankruptcies were widespread in 2019, and they were particularly severe in the oil and gas industry. We predict that they will intensify in other cyclical industries going forward. More than 35% of the Fortune 1000 use CreditRiskMonitor to stay ahead of such counterparty risk. The FRISK® score in combination with all-important, must-read Liquidity MD&As, give professionals the clearest view into a company's near-term risk of bankruptcy. Contact us today for a free demonstration to see how you can stay ahead of these disaster events.
About CreditRiskMonitor
CreditRiskMonitor is a financial news and analysis service designed to help professionals stay ahead of public company risk quickly, accurately and cost-effectively. More than 35% of the Fortune 1000, plus thousands more worldwide, rely on our commercial credit reporting and predictive risk analytics for assessing the financial stability of more than 57,000 global public companies.
At the core of CreditRiskMonitor's service is its 96%-accurate FRISK® score, which is formulated to predict public company bankruptcy risk. One of four key components calculated in the FRISK® score is crowdsourced subscriber activity. This unique system tracks subscribers' patterns of research activity, capturing and aggregating the real-time concerns of what are essentially the key gatekeepers of corporate credit. Other features of CreditRiskMonitor's service include timely news alerts, the Altman Z"-Score, agency ratings, financial ratios and trends. CreditRiskMonitor's network of trade contributors provides more than $2 trillion on their counterparties every year, giving them visibility into their biggest dollar risks.