2020 Visions: Artificial Intelligence Predicts Private Company Bankruptcies
01/10/2020
Staying ahead of private company bankruptcy with accuracy is never easy, yet it can be done with the right solutions. Sometimes your company may be unable to obtain financial statement information on a counterparty, and so reviewing payment performance is the next best alternative. Doing so involves a few hurdles:
Standalone payment risk scores only offer a prediction that is slightly better than a coin flip (50%)
Companies know that delinquency is a sign of financial stress and try to hide such activity
Certain companies can be consistent late payers, potentially overstating their risk profile 
CreditRiskMonitor's PAYCE® score employs deep neural network technology, a type of artificial intelligence, to provide an objective and consistent risk assessment on private companies. The model operates with a neural networking technology – leveraging the breadth and depth of more than $2 trillion in trade receivables and federal tax lien data – to predict bankruptcy with better than 70% accuracy. 
This accuracy rate is obtained by maximizing the identification of high risk companies prior to bankruptcy and minimizing misidentification of low risk companies. Therefore, the PAYCE® score helps users grow their business with low-risk companies and limit exposure to high-risk companies. 
This chart below shows the risk of bankruptcy for each score, looking forward 12-months:
Image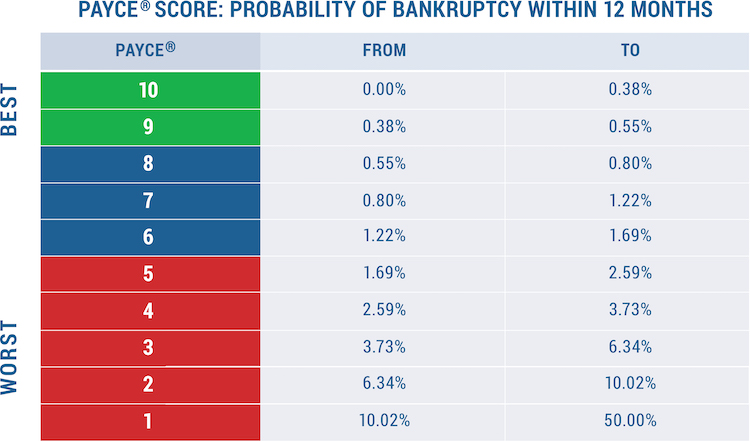 CreditRiskMonitor recommends giving extra attention to PAYCE® scores in the tiers between "1" and "3", as those companies are the most likely to file for bankruptcy. This "red zone" signal should be used in combination with information such as news, lawsuits, and judgments. 
Trending Lower
Even during times when the economy appears strong, bankruptcy is an ever-present risk for private companies. With limited information at hand, the PAYCE® score fills the void by signaling danger months before trouble strikes. Below are a few examples of the PAYCE® score in action:
West Virginia coal producer, Blackjewel L.L.C., was current in paying its bills up until it filed for bankruptcy on July 1. Payment history provided little-to-no warning. However, the PAYCE® score identified unique payment trends and its outstanding federal tax liens. The score was firmly in the red zone category and moved lower as 2018 led into 2019. The company's estimated liabilities were in excess of $500 million.
Image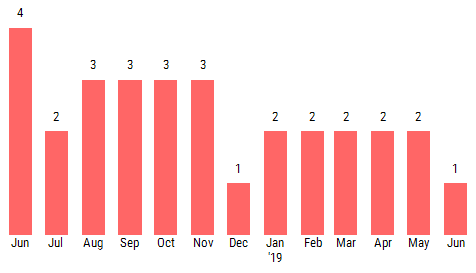 Southwest based KP Engineering, LP provided construction services to the midstream oil & gas industry. Our DBT Index, a monthly measure of payment performance, indicated that the company was current with its suppliers in 2018 and modestly past due in 2019. Yet the company's PAYCE® score was a "1," the highest risk category, for nearly one full year before the company filed for bankruptcy on Aug. 22. Its estimated liabilities were more than $50 million.
Image

Industrial manufacturer, Bayou Steel BD Holdings, LLC showed weighted-average payment performance was current up until its bankruptcy filing on Oct. 1. Those who reviewed backward-looking payment histories alone would have been blindsided by this failure. The PAYCE® score, however, signaled increasing trouble throughout the year with acute risk revealed in the first quarter of 2019. Estimated liabilities were also more than $50 million.
Image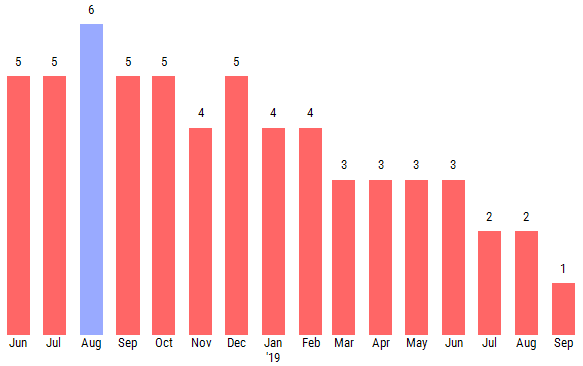 Bottom Line
CreditRiskMonitor leverages artificial intelligence, generates analytics, and provides actionable insights with the PAYCE® score. The PAYCE® score is only produced on private companies that carry a significant number of trade contributors and trade lines, yielding the best timing and accuracy on bankruptcy risk. By identifying unique, high-risk patterns, it observes financial stress well before a bankruptcy can negatively impact your company.
About CreditRiskMonitor
CreditRiskMonitor is a financial news and analysis service designed to help professionals stay ahead of public company risk quickly, accurately and cost-effectively. More than 35% of the Fortune 1000, plus thousands more worldwide, rely on our commercial credit reporting and predictive risk analytics for assessing the financial stability of more than 57,000 global public companies.
At the core of CreditRiskMonitor's service is its 96%-accurate FRISK® score, which is formulated to predict public company bankruptcy risk. One of four key components calculated in the FRISK® score is crowdsourced subscriber activity. This unique system tracks subscribers' patterns of research activity, capturing and aggregating the real-time concerns of what are essentially the key gatekeepers of corporate credit. Other features of CreditRiskMonitor's service include timely news alerts, the Altman Z"-Score, agency ratings, financial ratios and trends. CreditRiskMonitor's network of trade contributors provides more than $2 trillion on their counterparties every year, giving them visibility into their biggest dollar risks.