As the world reels from the effects of COVID-19, Quorum Health Corporation - a major American healthcare provider and operator of hospitals in 13 U.S. states - has filed for bankruptcy.
The Tennessee-based company had announced on Mar. 31 that it would be delaying its annual report for 2019. Quorum ended the third quarter of last year with a net loss of $76 million on revenues of $420 million. In the third quarter of 2018, the company recorded a net loss of $54 million on revenues of nearly $461 million.
While the company had been diligent in paying their bills on time right up through their Chapter 11 filing, CreditRiskMonitor subscribers would have seen the dangers in Quorum Health for more than a year's time simply by monitoring our FRISK® score:
Image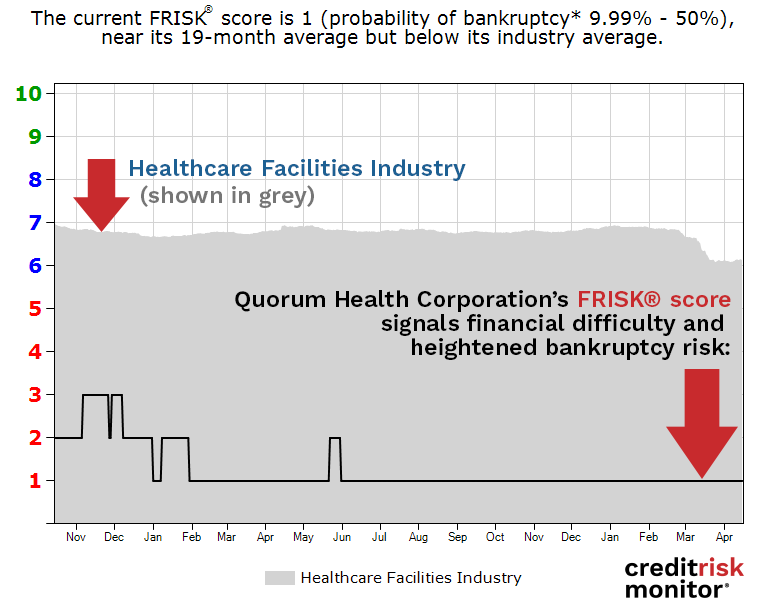 This High Risk Report provides an in-depth look at how a debt-laden corporation like Quorum Health, incorporated in 2015, was a bad bet for trade creditors from their start. Our FRISK® score is 96% accurate in predicting public company bankruptcy inside of a 12-month window.
Download the free report to learn more.
About Bankruptcy Case Studies
CreditRiskMonitor® Bankruptcy Case Studies provide post-filing analyses of public company bankruptcies. Our case studies educate subscribers about methods they can apply to assess bankruptcy risk using our proprietary FRISK® score, robust financial database, and timely news alerts.
In nearly every case, a low FRISK® score gave our subscribers early warning of financial distress within a one-year time horizon. Our proprietary FRISK® score predicts bankruptcy risk at public companies with 96% accuracy. The score is formulated by a number of indicators including stock market capitalization and volatility, financial ratios, bond agency ratings from Moody's, Fitch and DBRS, and crowdsourced behavioral data from a subscriber group that includes 35% of the Fortune 1000 and thousands more worldwide.
Whether you are new to credit analysis or have decades of experience under your belt, CreditRiskMonitor® Bankruptcy Case Studies offer unique insights into the business and financial decline that precedes bankruptcy.