Three Risky Operators Signaled By Subscriber Crowdsourcing
8/3/17
Public company defaults and restructurings adversely affect commercial creditors more often than one might think. Our FRISK® score gives financial professionals the ability to assess financial risk in real time for a portfolio of public companies. And this score now includes crowdsourced input from the thousands of subscribers using the CreditRiskMonitor service.
Since subscriber crowdsourcing has been incorporated into the FRISK® score, the score's predictive ability has improved. Essentially, the crowdsourced data is derived from subscriber click activity on the CreditRiskMonitor website. The thousands of subscribers being tracked are risk management professionals from the largest corporations around the world, including more than 35% of the Fortune 1000.
However, it isn't just the number of clicks that matter. We also found specific company-research usage patterns associated with high financial risk, and these patterns have been back-tested to prove their significance over time. Credit managers often have access to more detailed information on companies they do business with, which typically comes from a variety of different sources, including non-public information. So if multiple credit managers are worried about a given company, a vital group that controls corporate working capital, that business should be reviewed more closely. 
Discover the biggest risks in your portfolio: GET IN TOUCH FOR A PERSONALIZED RISK ASSESSMENT
Prime Examples
Looked at a different way, crowdsourcing allows financial professionals to communicate their concerns about a specific public company without saying a word. Their research actions speak for them. Listed below are three company FRISK® scores that have recently declined further due to subscriber crowdsourcing activity:

If an already low FRISK® score declines further, it is an important cautionary signal. In fact, a score of "1" indicates a 10-percent to 50-percent probability of bankruptcy within one year, whereas a score of "2" indicates a range of 4 percent to 10 percent. So, a "1" is a far riskier category than a "2." The probability of financial distress, such as a payment default, for these companies is of course even more likely to occur than bankruptcy.
Sears Canada has been under pressure for over a year as indicated by its low FRISK® score: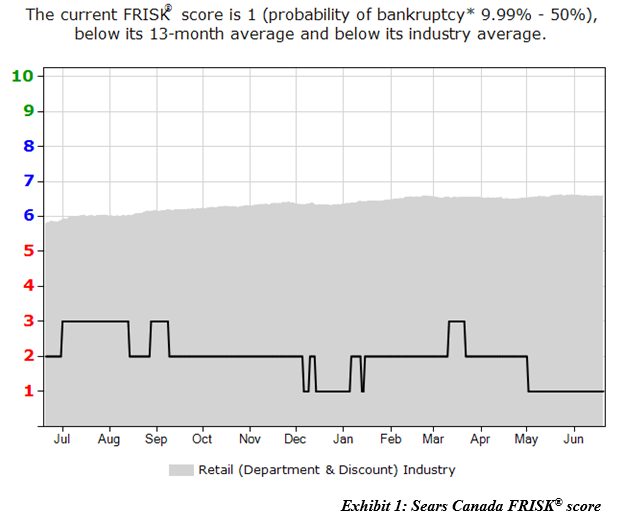 Crowdsourcing, however, has pushed the score even lower over the course of the last twelve months. By early May of 2016, crowdsourcing drove the company's FRISK® score from a "2" to a "1," confirming steepening financial risk. By June 22, Sears Canada filed for Creditor Protection under the Companies' Creditors Arrangement Act.
Inventure Foods is another interesting case. Below is the company's FRISK® score, showing an incremental decline from "6" to "1" over the last two quarters: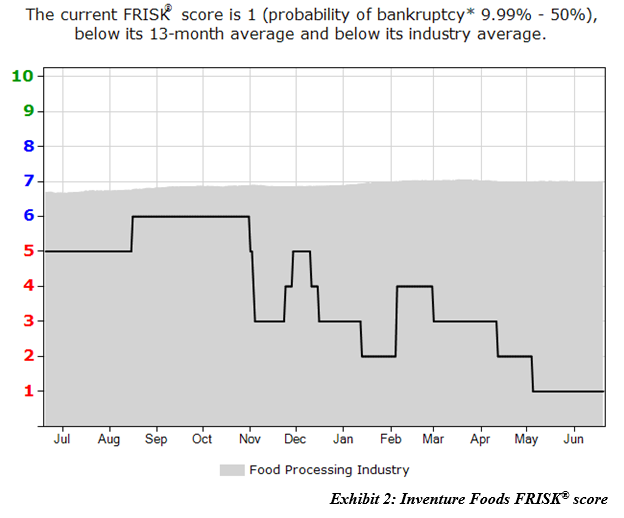 Crowdsourced data began to impact the FRISK® score in late 2016. By March of 2017, Inventure Foods received a going concern opinion and in June announced the resignation of its CEO.
Finally, USA Truck's FRISK® score has also been impacted by crowdsourcing; and over the last five months, the score has trended between "1" and "2."
USA Truck's MD&A states that the company will remain within its single financial covenant, but the company's reported EBITDA has shown little sign of stability. As of May 19, 2017, its CFO resigned.
Bottom Line
Counterparty financial risk needs to be addressed carefully but proactively as well. Crowdsourcing helps do that by aggregating the way in which CreditRiskMonitor's thousands of subscribers are researching their own, individual exposure to risk. As the examples above show, subscriber activity, when captured in aggregate and integrated into the FRISK® score, can highlight increasing financial risk at specific public companies. 
Discover the biggest risks in your portfolio: GET IN TOUCH FOR A PERSONALIZED RISK ASSESSMENT
*****
The FRISK® score is calculated by a proprietary model that measures the degree of financial distress for a public company. The model has been back-tested over the last decade to predict 96 percent of U.S. public company bankruptcies. The score is enhanced by our subscriber base through crowdsourced behavioral data patterns. Provided below is the scoring chart that displays the statistical probability of bankruptcy within the next twelve months for each score category: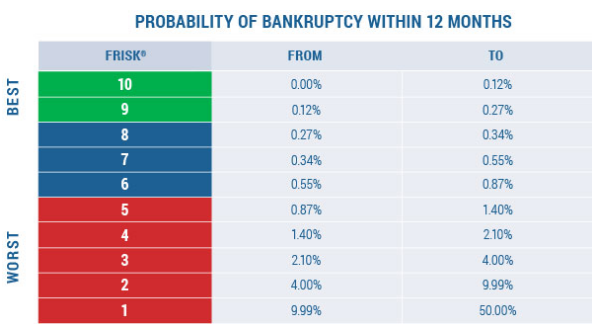 The FRISK® Stress Index is a model that provides the average probability of failure for a group of companies (e.g. by industry, portfolio, or country) over the next 12 months. The level of risk is measured through a scale of 0 to 50, with 50 being the most risky.
About CreditRiskMonitor
CreditRiskMonitor is a financial news and analysis service designed to help professionals stay ahead of public company risk quickly, accurately and cost-effectively. More than 35% of the Fortune 1000, plus thousands more worldwide, rely on our commercial credit reporting and predictive risk analytics for assessing the financial stability of more than 56,000 global public companies.
At the core of CreditRiskMonitor's service is its 96%-accurate FRISK® score, which is formulated to predict public company bankruptcy risk. One of four key components calculated in the FRISK® score is crowdsourced subscriber activity. This unique system tracks subscribers' patterns of research activity, capturing and aggregating the real-time concerns of what are essentially the key gatekeepers of corporate credit. Other features of CreditRiskMonitor's service include timely news alerts, the Altman Z"-Score, agency ratings, financial ratios and trends. CreditRiskMonitor's network of trade contributors provides more than $150 billion in trade data on their counterparties every month, giving them visibility into their biggest dollar risks. 
Posts By Category
Posts By Audience