Risky Credits in the Grocery Aisle
9/27/17
The domestic grocery industry has become increasingly competitive in recent years as new companies have entered the market and existing chains have expanded their store footprints. In August, Amazon (NASDAQ: AMZN) dove into the physical side of grocery after acquiring Whole Foods Market. Almost immediately, the company slashed prices on various staple products. Amazon will also likely leverage Whole Foods Market locations to bolster its online delivery model.
With competition rising and razor-thin profit margins compressing further in the wake of Amazon's gambit, marginal grocery operators must act strategically. There is little room for error. Suppliers, and other financial counterparties, should be watching for independent grocery customer risks, as well as a few of the larger chains.
GET A FREE RISK ASSESSMENT TO SEE HOW THE FRISK® SCORE RATES COMPANIES IN YOUR PORTFOLIO
CreditRiskMonitor's proprietary FRISK® score is currently flashing early warning signs that some public grocery stores are in precarious financial health. A few of these names could be at risk of default or may eventually file for bankruptcy. The FRISK® score is a statistical model that measures corporate financial distress on a "1" (worst) to "10" (best) scale with a 96% accuracy rating for predicting bankruptcy within a 12-month period.
Bankruptcy Example
Fairway Group Holdings Corp., also known as Fairway Markets, located in the Northeastern United States, filed for bankruptcy protection in May 2016. The primary factors that contributed to its decline were a lack of scale, incremental traffic declines, and, as is often the case in bankruptcies, a high debt burden relative to competitors. Fairway's FRISK® score was trending in the "red zone" for more than a year prior to bankruptcy, warning CreditRiskMonitor subscribers of the company's higher-than-average financial risk. What's more, the FRISK® score fell to the lowest possible score of "1" approximately six months in advance of bankruptcy, clearly highlighting Fairway's increasing financial distress while subscribers still had time to reduce their financial exposure.
In June 2017, CreditRiskMonitor's news alert service showed that Moody's gave Fairway a poor long-term credit rating "CCC" after it had emerged from bankruptcy. This low rating is still equivalent to a FRISK® score of "1," which implies that not much has changed for the company at the financial level.
Good and Bad Apples
With Amazon taking aim at the grocery industry, in addition to efforts by Wal-Mart Stores Inc. (NYSE: WMT) and Target Corporation (NYSE: TGT) to compete on price, it's necessary to identify which operators may be unable to adjust to the fast-changing industry dynamics of the grocery business. Below we generated a small list of public U.S. grocery stores with their respective FRISK® scores: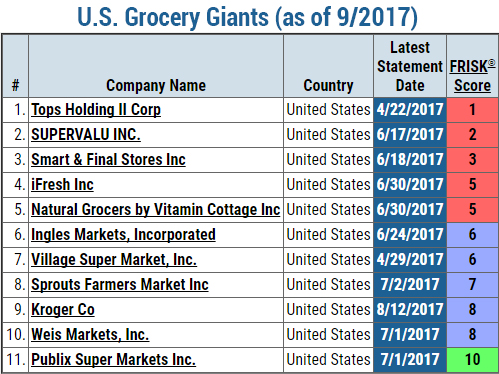 With the grocery industry becoming increasingly saturated and price competition on the rise, all companies are affected. As Fairway Group shows, companies with higher than average financial leverage are even more at-risk. As of the first quarter of 2017, median debt-to-assets for the grocery industry was approximately 21%; at the same time, Tops Holding II Corp., Supervalu Inc., and Smart & Final Stores Inc. ranked in the bottom quartile versus industry peers at 87%, 41% and 34%, respectively.
According to a study by the National Grocers Association, labor and healthcare benefit costs reached a new record for grocery stores. In this environment, any loss of incremental gross margin dollars will drive magnified damage to a company's EBITDA and cash flow performance. For example, in the first quarter of 2017, Tops Holding actually lost 22% of its EBITDA after accounting for these higher costs and reduced gross margin as a percentage of sales. Results like this directly hamper the company's ability to service its debt. 
Currently, Tops Holding maintains the lowest FRISK® score of "1," which indicates a 10%-to-50% probability of bankruptcy within the next 12 months. Supervalu (NYSE: SVU) and Smart & Final (NYSE: SFS) are also trending in the "red zone," meaning that they have higher-than-average financial risk, as well.
On the flip side, names like Publix and Kroger (NYSE: KR) are financially healthy, as they possess high FRISK® scores of "10" and "8," respectively. Without even knowing that these companies have strong brands and highly efficient operations, the FRISK® score suggests that suppliers can breathe easier when dealing with these grocery chains. 
Bottom Line
Food price inflation has picked up since March 2017 and often serves as a tailwind for grocery stores, yet increasing industry competition and rising operating costs are far more substantial headwinds. The FRISK® score is a best-in-class risk management tool that monitors public company financial health in real time. It is clearly showing that grocery stores underperforming today should be followed very closely for credit risk.
Based on our review, Fairway Markets and Tops Holding are two of the riskiest operators in the grocery industry from a credit perspective. Unfortunately, industry woes are unlikely to abate anytime soon, especially when we consider the disruptive changes that giant retailers like Amazon are already beginning to implement. All told, suppliers should be on the lookout for companies that are in the FRISK® "red zone" or might be on the cusp of swinging into this high-risk category.
Let us help you evaluate your portfolio outlook with retailers and other at-risk industries with a personalized demo
About CreditRiskMonitor
CreditRiskMonitor is a financial news and analysis service designed to help professionals stay ahead of public company risk quickly, accurately and cost-effectively. More than 35% of the Fortune 1000, plus thousands more worldwide, rely on our commercial credit reporting and predictive risk analytics for assessing the financial stability of more than 56,000 global public companies.
At the core of CreditRiskMonitor's service is its 96%-accurate FRISK® score, which is formulated to predict public company bankruptcy risk. One of four key components calculated in the FRISK® score is crowdsourced subscriber activity. This unique system tracks subscribers' patterns of research activity, capturing and aggregating the real-time concerns of what are essentially the key gatekeepers of corporate credit. Other features of CreditRiskMonitor's service include timely news alerts, the Altman Z"-Score, agency ratings, financial ratios and trends. CreditRiskMonitor's network of trade contributors provides more than $150 billion in trade data on their counterparties every month, giving them visibility into their biggest dollar risks. 
Posts By Category
Posts By Audience