Offshore Oil & Gas Equipment Risk Explodes Higher
11/30/16
Key Energy Services, Inc. (OTCMKTS: KEYXQ), one of the largest U.S. onshore well servicing contractors, filed for bankruptcy on October 24, 2016. Currently, there are many businesses within the oil and gas sector that appear to be approaching financial scenarios like the one to which Key Energy Services fell into. Industry customers and suppliers can take comfort in the fact that CreditRiskMonitor's FRISK® model can help identify these potential risks before they impact your company's top and bottom lines.
One of the key components of the FRISK® score is the crowd-sourced, aggregate usage data of CreditRiskMonitor subscribers. These financial risk professionals make decisions for more than 35% of the Fortune 1000 and over 1,000 other large corporations internationally.  Trade credit represents the third largest source of debt financing in the corporate world.  So, how risk managers interpret a business's financial health ultimately impacts the availability of working capital. This crowd-sourced data cannot be found anywhere else and adds accuracy to the FRISK® ranking that goes well beyond simply looking at financial reports and payment histories. 
Lower for longer?
Fortunately for Key Energy Services Inc.'s stakeholders, the bankruptcy court provided them with uplifting news at a recent hearing. Summarizing the outcome, the company will be able to pay employees, vendors, and trade creditors in full and customer related programs will be maintained. Still, the company's restructuring is an ongoing process and this major bankruptcy cannot be labeled as an isolated case.
Indeed, many oil and gas businesses are performing poorly today because commodity prices are trending within a relatively low range. In the last twelve months Brent crude oil prices have traded between $34 and $54 per barrel. This low price level has been a huge challenge for exploration and production companies, since many projects have been running at a loss or have simply been shut down. In fact, estimates from industry watcher Rystad Energy suggest that more than half of the industry may be selling oil below their marginal cost of production:
Companies have been working hard to cut costs, despite the fact that commodity market volatility has subsided to some degree. S&P Global Ratings' dour outlook helps explain why oil companies have been taking a highly conservative approach:
"We believe that the oil market is likely to remain oversupplied well into 2017, and that industry deflation has lowered the long-term cost to produce a marginal barrel."
Although the pain for oil and gas companies has been fairly obvious, and a frequent headline grabber, CreditRiskMonitor is even more concerned about niche offshore vessel companies within the oil and gas equipment and services industry. 
Idle equipment
Given that key customers have steeply cut exploration and production budgets, the contract environment for rates and maturities has been unforgiving. Two names that appear to highlight the industry's broader troubles are Tidewater Inc. (NYSE: TDW) and Gulfmark Offshore (NYSE: GLF), with $4.7 billion and $1.1 billion in total assets, respectively.
Tidewater has survived by quickly cutting its operating cost structure, but management admitted that declining activity and corresponding fleet utilization is worrying. In the second quarter conference call, management restated its goal of insulating the balance sheet as much as possible:
"...growth appears to be less important to our customers than is cost cutting and cash flow at the offshore market and particularly the working offshore rig count is still struggling to find the bottom."
The company believes its $675 million worth of cash should allow it to work through the industry downturn. But management's positive outlook doesn't mean risk is not present. In fact, the company's FRISK® score has declined from a 3 to a 1 over the past 12 months. The FRISK® score uses a scale from 1 to 10, where a rating equal to or less than 5 suggests a higher probability of financial distress. In other words, the outlook for Tidewater is about as bad as it gets:  
The company isn't covered by any of the major credit ratings agencies, but a FRISK® score of 1 effectively translates to a non-investment grade rating, i.e. CCC or lower. No matter how positive Tidewater's management claims to be, the FRISK® score strongly suggests caution is in order if you are supplying or relying on Tidewater.
Gulfmark Offshore, meanwhile, appears to be in even worse shape, in our view. If we include fleet depreciation as a part of cost of goods sold, we can see Gulfmark has reported three consecutive quarters of negative gross margin, whereas Tidewater is still modestly positive on that front. And while Gulfmark management has made significant changes to its capital spending plans to save cash, the company still ran a free cash flow burn of $28.4 million, including both fixed asset purchases and sales, in the last nine months. That's clearly not supportive of liquidity as key ratios have steadily declined over time:
It is particularly noteworthy that working capital declined more than 65% year-over-year. We think that anyone doing business with Gulfmark Offshore needs to closely monitor the company.
Bottom line
As it stands today, the oil & gas sub-sector remains one of the leading contributors to total defaults globally and that trend will likely continue into 2017. Offshore equipment and services companies specifically are experiencing extreme pressure because of the oil downturn, especially off-shore vessels due to lower fleet activity and broadly challenged balance sheet positioning. There are many businesses in the sector, well beyond the two cases we have examined, that are showing red flags. Counterparties, especially creditors, should be prepared to mitigate their risks.
For further information, readers can also take a look at our post bankruptcy analysis of Sabine Oil & Gas Corp.
*****
The FRISK® score is calculated by a proprietary model that measures the degree of financial distress for a public company. The model has been back-tested over the last decade to predict 96% of public company bankruptcies. The failure score is enhanced by our subscriber base through crowd sourced behavioral data patterns. Provided below is the scoring chart that displays the statistical probability of bankruptcy within the next twelve months for each score category: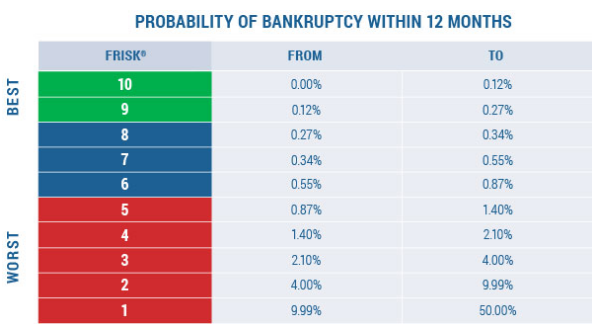 FRISK® Stress Index is a model that provides the average probability of failure for a group of companies (e.g. by industry, portfolio, or country) over the next 12 months. The level of risk is measured through a scale of 0 to 50, with 50 being the most risky.
About CreditRiskMonitor
CreditRiskMonitor is a financial news and analysis service designed to help professionals stay ahead of public company risk quickly, accurately and cost-effectively. More than 35% of the Fortune 1000, plus thousands more worldwide, rely on our commercial credit reporting and predictive risk analytics for assessing the financial stability of more than 56,000 global public companies.
At the core of CreditRiskMonitor's service is its 96%-accurate FRISK® score, which is formulated to predict public company bankruptcy risk. One of four key components calculated in the FRISK® score is crowdsourced subscriber activity. This unique system tracks subscribers' patterns of research activity, capturing and aggregating the real-time concerns of what are essentially the key gatekeepers of corporate credit. Other features of CreditRiskMonitor's service include timely news alerts, the Altman Z"-Score, agency ratings, financial ratios and trends. CreditRiskMonitor's network of trade contributors provides more than $150 billion in trade data on their counterparties every month, giving them visibility into their biggest dollar risks. 
Posts By Category
Posts By Audience