Leveraged Retailers Remain A Risk Management Crisis
5/9/17
Retailers across the board are still under tremendous pressure as consumers shift toward online shopping. Stores saddled with considerable leverage, like Sears Holdings Corp. (Nasdaq: SHLD), Bon-Ton Stores (Nasdaq: BONT), and The Gymboree Corporation, are facing even greater headwinds than most. In fact, retail bankruptcies recently hit their highest level since the last economic recession, and this problem isn't going away anytime soon.
Credit professionals should be skeptical of retailers in general, but especially so if it is a name that is trending toward financial distress. Any company with a FRISK® score of "5" or less, also known as the "red zone," should grab your immediate attention. To put it bluntly, 96% of public company bankruptcies fall into the FRISK® "red zone" before they file.
Discover your exposure: GET A FREE RISK ASSESSMENT FOR YOUR PORTFOLIO
Dead Or Alive?
Sears' FRISK® score remains deep in the "red zone," the lower half of the FRISK® "1" (worst) to "10" (best) scale. Its FRISK® score of "1" means the company has a 10% to 50% chance of bankruptcy over the next 12 months. Its high risk profile appears to be getting worse too, driven mostly by persistent operating losses, a thinning asset portfolio, and increased financial leverage: 
CreditRiskMonitor's leverage page for Sears clearly illustrates the deteriorating capital structure; notice the trend in total debt and shareholder equity over the last five quarters. There's no question that Sears' financial state is more precarious than ever. Sears' going-concern warning is further confirmation of the company's highly distressed state.
Another struggling name in the retail space is Bon-Ton Stores. While this company holds a neutral "Z" score, trending between 1.14 and 1.93 over the last two years, its actual financial picture shows serious weakness. This risk is quickly revealed by the company's FRISK® "1," the worst possible rating. Over the last several years, the company's sales have steadily declined and cash flow remains inconsistent. While management recently secured an extension on a large credit facility, it doesn't mean the company is out of the woods. Moreover, its low FRISK® score specifically highlights the need to keep a close eye on this struggling retailer.
Last but not least is Gymboree. Over the last few years, debt as a percentage of total assets showed a continuous increase as the company's intangible assets were impaired. For the period ending January 28, 2017, debt to assets reached a record high of 1.40. More important, Gymboree's FRISK® "1" has been indicating high financial risk for an extended period of time. As of April 11, 2017, news broke that the company might be preparing to file for bankruptcy due to refinancing difficulties. 
Bottom Line
More retail liquidations (Chapter 7s) have transpired recently than reorganizations (Chapter 11s), an important theme in the bankruptcy landscape. Many struggling retailers have been able to sell assets, notably well-located retail properties, to stave off liquidity risk. However, for truly weak retailers, like Sears, that tactic can work for only so long. More to the point, liquidations are often tremendously unforgiving to subordinate lenders. If we add in the increasing number of retailers that can't survive as they exist today, risk professionals clearly need to tread carefully in this challenged sector.
Sears, Bon-Ton, and Gymboree are three specific cases showing very real counterparty risk. It's important to give your immediate attention to companies where the FRISK® score is signaling heightened risk. The FRISK® score provides purchasers and suppliers alike with the crucial lead time to address risk and adjust for it...but only if you heed the warning.
Discover your exposure: GET A FREE RISK ASSESSMENT FOR YOUR PORTFOLIO
*****
The FRISK® score is calculated by a proprietary model that measures the degree of financial distress for a public company. The model has been back-tested over the last decade to predict 96% of US public company bankruptcies. The score is enhanced by our subscriber base through crowdsourced behavioral data patterns. Provided below is the scoring chart that displays the statistical probability of bankruptcy within the next 12 months for each score category: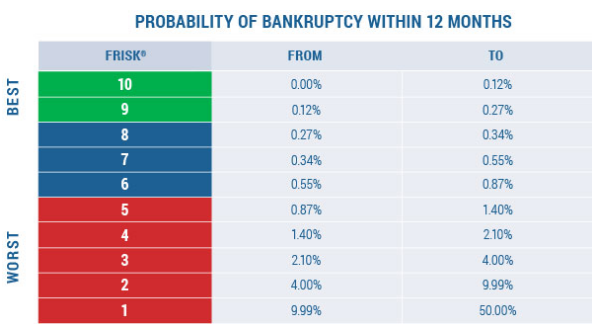 The FRISK® Stress Index is a model that provides the average probability of failure for a group of companies (e.g., by industry, portfolio, or country) over the next 12 months. The level of risk is measured through a scale of 0 to 50, with 50 being the most risky.
About CreditRiskMonitor
CreditRiskMonitor is a financial news and analysis service designed to help professionals stay ahead of public company risk quickly, accurately and cost-effectively. More than 35% of the Fortune 1000, plus thousands more worldwide, rely on our commercial credit reporting and predictive risk analytics for assessing the financial stability of more than 56,000 global public companies.
At the core of CreditRiskMonitor's service is its 96%-accurate FRISK® score, which is formulated to predict public company bankruptcy risk. One of four key components calculated in the FRISK® score is crowdsourced subscriber activity. This unique system tracks subscribers' patterns of research activity, capturing and aggregating the real-time concerns of what are essentially the key gatekeepers of corporate credit. Other features of CreditRiskMonitor's service include timely news alerts, the Altman Z"-Score, agency ratings, financial ratios and trends. CreditRiskMonitor's network of trade contributors provides more than $150 billion in trade data on their counterparties every month, giving them visibility into their biggest dollar risks. 
Posts By Category
Posts By Audience