Challenging Solar PV Market Revives Industry Bankruptcy Risk
9/19/16
SunEdison's (OTCMKTS: SUNEQ) April bankruptcy was just the tip of the iceberg for solar industry credit risk. After a difficult run through the first half of 2016, many solar companies have seen unprecedented balance sheet deterioration, and by consequence, headwinds leading into 2017 appear rather threatening.
Overcapacity Takes Hold
In the last two quarters, executive management teams have relayed the message that solar product prices are falling sharply because of overcapacity. This scenario has been driven by two major factors: overproduction of modules and systems from manufacturers globally, and low contract volumes from customers due to the delayed approval of the U.S. solar investment tax credit. Furthermore, it is presently unclear as to when supply and demand will reach equilibrium, which is a concern for many companies.
In First Solar's (NASDAQ: FLSR) latest conference call, CEO, Mark Widmar, described the following narrative on pricing conditions:
"In some markets pricing has gotten very aggressive, so we have to be careful in that regard…"  while CFO, Alexander Bradley, followed up with, "...we always knew that 2017 would be a challenging year, especially as we saw margins decline from our more lucrative legacy contracts..."
Economic viability has always been an overarching theme in the solar business. Companies have fared well with commercial and utility customers whereas residential still remains a tough market given limited economies of scale.  But now with underlying macro headwinds, the industry as a whole is facing a severe cash flow crunch.
Where The Trouble Is
We generated a sample set of 26 publicly traded companies that include manufacturers and intermediaries that have direct connection with Solar PV end markets. CreditRiskMonitor's FRISK® Stress Index is signaling that financial distress for this group as a whole has increased 927% since the beginning of the 2008 Great Recession:
Overall economic stress stands nearly in-line with the last industry downturn in 2012 and continues to push higher. It's worth noting that during 2012 there were approximately 40 solar-related companies forced into restructuring, operational shutdown, or fire-sale liquidation.
Provided below is the list of 26 corporations within our sample set: 
Some industry watchers have indicated that macro dynamics could bottom out as early as next year, but that may not be enough to alleviate existing credit risk exposure. 
Currently, there are nine businesses that have an unsettling FRISK® score of 1 or 2. A score this low represents an equivalent to a highly speculative non-investment credit rating or worse.
Business partners should review companies labeled in red more critically as financial stress is higher compared to ones that show as blue or green.
A Deeper Dive
We evaluated balance sheet trends that developed for the same sample set between 2014 and 2015 year end. While this period was generally considered to be a period of expansion, the financial positions for most companies weakened significantly. Below we calculated the following year over year adjusted averages:
Leverage exploded, debt/equity ratios shifted up between 34- 66%.
Liquidity dropped, cash ratio and quick ratio decreased 7% and 15%, respectively.
Working capital as a percentage of total assets declined from 7.3% to 4.1%.
Looking more specifically at some of the most notable industry players, SolarCity (NASDAQ: SCTY), SunPower (NASDAQ: SPWR), and Canadian Solar (NASDAQ: CSIQ) have expanded their long term debt balances between 50-100% over the last 12 months:
This activity speaks volumes on how aggressively solar companies are spending.  There are typically a few different reasons for this, which include but are not limited to:
Expanding production capacity to grow market share
Installing at a lower cost per watt
Developing higher energy conversion efficiency
Clearly these goals are important to maintain a leading edge in this fast moving industry, but will capital markets tolerate the increasing financial risks? We think risk management skills for certain companies will undoubtedly be tested going forward.
Bearing that in mind, we furthered our screening for businesses that have low levels of cash in their most recently reported quarter, and included a few additional quantitative metrics that indicate weakness:
It's worth noting that three of the five companies above have a FRISK® score of 1. The other two companies have a score of 3, which is better but still considered risky.
Some Specific Examples
There have also been a variety of concerning events developing in the solar marketplace. Two examples include:
SolarCity Corporation, one of the largest sellers of residential products, has remained unprofitable since 2011, and continues to burn through cash at an accelerated rate. The company issued a $124 million bond offering but was unable to find sufficient demand, so management resorted to purchasing significant quantities of the security. Not more than a month later, they also generated about $305 million through a cash equity transaction.

There is also speculation that the proposed merger between Tesla Motors and Solar City is little more than a disguised bailout.  Being that SolarCity's FRISK® score fell from a "4" to a "1" between October 2015 and today, there's clear evidence of increasing economic distress to back that belief.
SunPower Corporation, a large firm with diverse end-market exposure, saw considerable gross margin pressure on its year over year performance. After recording a trailing twelve month free cash flow burn of around $1.4 billion, management showcased their strategic plans of expanding production capacity. Yet they also emphasized the importance of reducing exposure to less attractive internal projects. Over the last year, SunPower's FRISK® score dropped from a "5" to a rating of "2".
Some of the solar companies we  highlighted possess various financial cushions, including inventory control, labor cost reductions, capital expenditure budget cuts, and in certain cases, the tailwind of falling poly-silicon commodity prices. Using these levers could help alleviate the risk of financial distress and, ultimately, bankruptcy. At the same time, however, this period will prove to be a large hurdle for the industry's more distressed names as dependence on external financing is becoming increasingly complicated. Although solar has become more economical for customers in recent years, we believe today's challenging Solar PV market revives industry bankruptcy risk.
During a cyclical industry downturn, it's not about beating the next player, it's about surviving.
Do you know which of your large global customers or suppliers are experiencing growing financial distress? GET A PERSONALIZED RISK ASSESSMENT.
*****
The FRISK® score is a proprietary model that provides a score that measures the degree of financial distress for a public company. The model has been back-tested over the last decade to predict 96% of public company bankruptcies. The failure score is enhanced by our credit subscriber base through crowd sourced behavioral data patterns. Provided below is the scoring chart that displays the statistical probability of bankruptcy within the next twelve months for each respective score: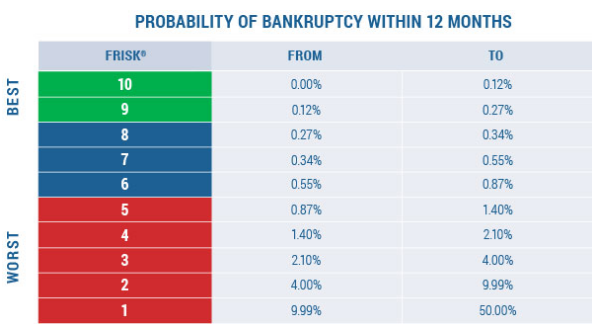 The FRISK® Stress Index is a model that provides the average probability of failure for a group of companies (e.g. by industry, portfolio, or country) over the next 12 months. The level of risk is measured through a scale of 0 to 50, with 50 being the most risky.
About CreditRiskMonitor
CreditRiskMonitor is a financial news and analysis service designed to help professionals stay ahead of public company risk quickly, accurately and cost-effectively. More than 35% of the Fortune 1000, plus thousands more worldwide, rely on our commercial credit reporting and predictive risk analytics for assessing the financial stability of more than 56,000 global public companies.
At the core of CreditRiskMonitor's service is its 96%-accurate FRISK® score, which is formulated to predict public company bankruptcy risk. One of four key components calculated in the FRISK® score is crowdsourced subscriber activity. This unique system tracks subscribers' patterns of research activity, capturing and aggregating the real-time concerns of what are essentially the key gatekeepers of corporate credit. Other features of CreditRiskMonitor's service include timely news alerts, the Altman Z"-Score, agency ratings, financial ratios and trends. CreditRiskMonitor's network of trade contributors provides more than $150 billion in trade data on their counterparties every month, giving them visibility into their biggest dollar risks. 
Posts By Category
Posts By Audience