Popular drugstore retailer Rite Aid Corporation's heightened bankruptcy risk coincides with one-time competitor Walgreens swooping in and converting brick-and-mortar stores to their own brand and system.
CreditRiskMonitor's proprietary FRISK® score signals that Rite Aid Corporation has a 10-to-50 times greater risk of bankruptcy than the average public company:
Image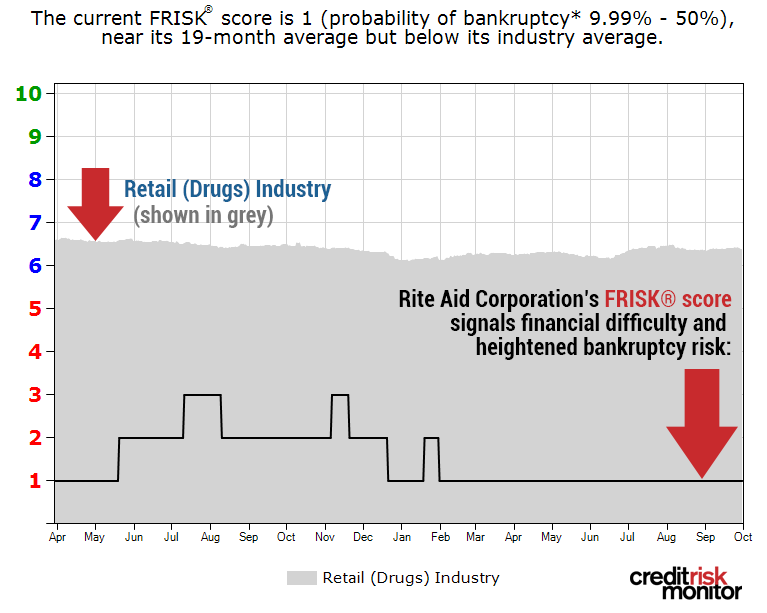 This High Risk Report explains what's happened in recent quarters to Rite Aid Corporation, and looks forward to the end of 2019 and beyond as the company is continually reducing their store footprint under new CEO Heyward Donigan. How they align their cost structure to the decrease in company size will be crucial if there's any hope of a turnaround. Larger and well-capitalized sector peers like CVS Health Corporation (FRISK® score: 9), as well as online competition for retail sales, present some of the highest hurdles for Rite Aid Corporation to leap.
Download the free report to learn more. 
About High Risk Reports
Our High Risk Reports feature companies that are exhibiting a significantly high level of financial distress, as indicated by our proprietary FRISK® score.
The reports highlight the factors that have pushed a company's score lower on the "1" (worst) to "10" (best) FRISK® score, which is 96% accurate in predicting bankruptcy over a 12-month period. The High Risk Reports also includes analysis on financial indicators such as the company's DBT index, stock performance, financial ratios and how it is performing relative to its industry peers.
The ultimate goal of the High Risk Report series is two-part: provide an early warning for those doing business with an increasingly distressed company and inform of the many signals that should be examined when assessing financial risks.