U.S. Bankruptcies Increase: Mitigate Risk with Predictive Scoring
02/03/2020
Commercial bankruptcies in the United States increased for the first time since 2009. CreditRiskMonitor sourced Chapter 11 and Chapter 7 bankruptcy filings from the U.S. courts and determined that total bankruptcies for these categories increased by 3% year-over-year.
Image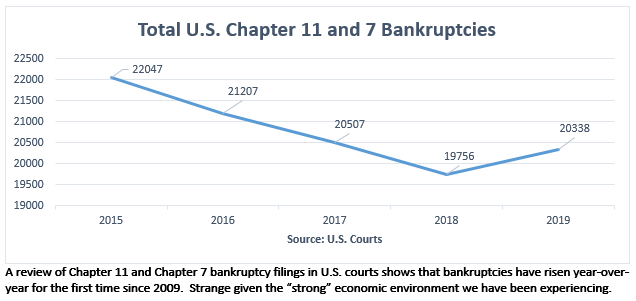 An upward reversal in bankruptcy filings is one of the early signs of weakness in the business cycle. If one of your business counterparties is struggling today, it could very well not even exist tomorrow. CreditRiskMonitor's data indicates that several U.S. industries in 2020 are financially stressed:
| | | |
| --- | --- | --- |
| SIC | Industry | FRISK® Stress Index |
| 27 | Printing & Publishing | 4.7x higher financial stress than the avg. sector with a value of "1" |
| 56 | Apparel & Accessory Stores | 4.7x higher financial stress than the avg. sector with a value of "1" |
| 13 | Oil & Gas Extraction | 4.3x higher financial stress than the avg. sector with a value of "1" |
| 80 | Health Services | 2.5x higher financial stress than the avg. sector with a value of "1" |
| 48 | Communications | 2.5x higher financial stress than the avg. sector with a value of "1" |
The FRISK® Stress Index compares the probability of failure across a group of companies (such as an industry, a country or portfolio) from 2007 to present, with the average rate being one. Each U.S. group reveals a higher concentration of companies that are vulnerable to bankruptcy versus the typical industry. If you work with companies in these industries, be sure to perform a deeper dive into your portfolio.
Actionable Procedures
CreditRiskMonitor subscribers, including more than 35% of the Fortune 1000, use our real-time risk assessments to monitor their business counterparties. Our proprietary bankruptcy scores include the 96% accurate FRISK® score (on companies with financial statements) and 70% accurate PAYCE® score (for companies without financial statements). Both models use a "1" (high risk) to "10" (low risk) scale to calculate a company's probability of bankruptcy looking ahead 12 months and leverage various forms of AI. 
However, looking at specific companies is only one part of a broader periodic review. In advance of the next rotation of commercial bankruptcies, risk professionals need to address:
Dollar exposure by business type, specifically public and private
Counterparty risk stratification (e.g., low, medium, high)
Estimated losses should your counterparty file for bankruptcy
Safer alternative companies with which to work
Waiting to perform these procedures could blow a hole in your company's bottom line. 
Mounting Uncertainty
Record corporate debt and waning business confidence, according to Deloitte, are striking developments regardless of which industry you are operating in. A steep rise in year-over-year U.S. commercial bankruptcies affirms that broader economic conditions are beginning to weaken. If you want more information on prevailing risk and our downside scenario prediction, check out our review on the IMF's latest warning.
About CreditRiskMonitor
CreditRiskMonitor is a financial news and analysis service designed to help professionals stay ahead of public company risk quickly, accurately and cost-effectively. More than 35% of the Fortune 1000, plus thousands more worldwide, rely on our commercial credit reporting and predictive risk analytics for assessing the financial stability of more than 57,000 global public companies.
At the core of CreditRiskMonitor's service is its 96%-accurate FRISK® score, which is formulated to predict public company bankruptcy risk. One of four key components calculated in the FRISK® score is crowdsourced subscriber activity. This unique system tracks subscribers' patterns of research activity, capturing and aggregating the real-time concerns of what are essentially the key gatekeepers of corporate credit. Other features of CreditRiskMonitor's service include timely news alerts, the Altman Z"-Score, agency ratings, financial ratios and trends. CreditRiskMonitor's network of trade contributors provides more than $2 trillion on their counterparties every year, giving them visibility into their biggest dollar risks.