The FRISK® Score: Building Procurement Knowledge on How to Assess Bankruptcy Risk
02/27/2018
Evaluating supplier financials is a standard part of procurement's supplier qualification and performance management efforts. Unfortunately, this sometimes means little more than "checking the box" when effective risk assessment requires active investigation into each supplier's relative financial performance. 
Bankruptcy risk is a specific area procurement professionals should focus upon when evaluating publicly held suppliers' financial performance – especially given the effect of competitive pressures on corporate margins and daily news stories about growing levels of global debt. As important a study of bankruptcy risk is, it can be hard to discern from financial statements alone. Fortunately, proven resources such as the FRISK® score allow procurement professionals to assess and monitor supplier bankruptcy risk by increasing visibility and providing easy access to robust financial analysis.
Bankruptcy risk monitoring provides an early look into the likelihood of supply chain disruption. While many companies stay in business through post-bankruptcy restructuring, their performance, reliability and quality will likely suffer. This, in turn, prevents procurement professionals from supporting their own company's ability to satisfy client demand and maintain healthy financials.
Let's take Blue Apron Holdings, Inc., as an example of looming bankruptcy risk. Most consumers are familiar with this recipe and meal kit service from their upbeat, family-oriented television commercials. Despite the happy faces, Blue Apron's performance has been marred by weak financials and fierce competition. The challenges Blue Apron faces in 2018, as Amazon and Wal-Mart introduce their own prepared meal kit delivery services, should serve as an example on how procurement professionals should evaluate a company's likelihood of bankruptcy, the big-picture view of their financials and their ability to pay their suppliers on time.
Image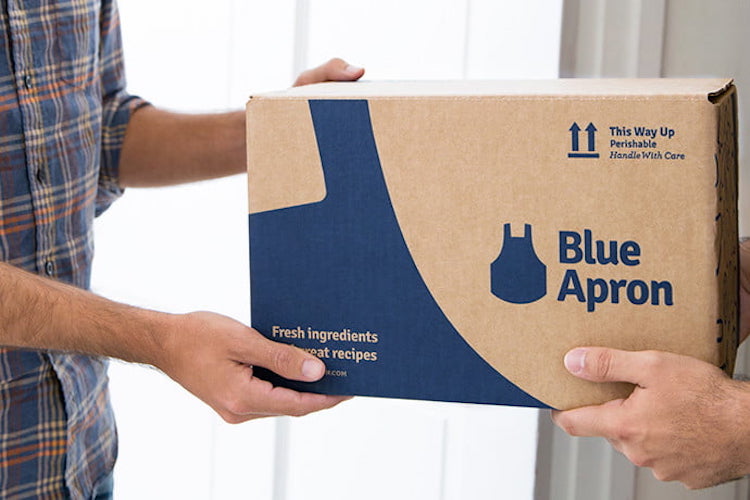 Likelihood of Bankruptcy in the Next 12 months: The FRISK® Score
A company's FRISK® score tracks their probability of bankruptcy within the next 12 months and compares it to the rest of their industry. Top scores indicating great financial health are "10" and "9," neutral scores range from "8" to "6", and then scores descend into what is the "red zone" of public company bankruptcy risk between "5" and "1." Once the red zone is reached, it is time to heavily scrutinize that company in your portfolio. 
Blue Apron currently has a FRISK® score of "5." While this is in the red zone, it is an improvement over the score of "2" they held until November of last year. This piece of information alone does not justify dropping a supplier, but it should certainly lead to an increased level of monitoring and pre-qualification of alternate suppliers within the industry.
Big Financial Picture: The Z"-Score
The Z"-Score uses four financial ratios to assess a company's likelihood of failure. Computed quarterly, it allows procurement to see a supplier's current bankruptcy risk and monitor the trend over time. To be considered at least neutral, a company must score 1.1 or higher on a scale of 4. Blue Apron raised red flags when their Z"-Score fell from 2.66 in December 2015 to a score of -2.13 just one year later. They have been in negative territory ever since, although they made a significant improvement in November 2017, when their Z"-Score moved from -5.46 to -0.61. With this trend, procurement would be wise to investigate what the company is doing to improve their financial stability and prevent future risk spikes.
A key item to note here is that the Z"-Score is one component of the FRISK® score, which also leverages stock market volatility data, bond agency ratings and CreditRiskMonitor subscriber crowdsourcing data into a score which is measured daily. By comparison, the Z"-Score is reconfigured quarterly as new financials are made available from companies. Because so much can happen in three months' time for procurement professionals, the FRISK® score should be your go-to metric.
Image
Access to Cash: The DBT Index
Every company is a single link in their supply chain, interfacing with customers as well as suppliers. Whether your supplier is paying their suppliers on time has a material impact on their ability to continue delivering on their commitments to you. The Days-Beyond-Terms (DBT) index tracks the on-time, or late, payment performance of a company. Keep in mind that this particular index can be deceiving for public companies due to the relative ease with which they can access cash to continue making supplier payments, even if it increases their debt. For the majority of the last two years, Blue Apron has had a DBT Index of "9" or "8," squarely in safe territory. They have dipped to a "7" (21-30 days beyond terms) three times in the last six months, most recently in January of 2018. Procurement professionals are commonly looking for opportunities to gain visibility into the second tier of the supply chain – and validating that a supplier's suppliers are being paid on time provides concrete evidence that procurement professionals can take into consideration and follow up on.
If the best advice regarding supplier financials is to dig into the details and understand their bankruptcy risk, the second-best advice is to open a dialogue with suppliers about that risk. Procurement professionals should start by informing themselves and then ask supply partners detailed questions about signs of risk in their financials. This provides procurement professionals with the best ability to mitigate the probability of disruption and reinforces collaborative relationships with current suppliers.