With consumer demand plummeting because of the COVID-19 pandemic, highly leveraged automotive supplier Shiloh Industries, Inc. has filed for Chapter 11 restructuring.
The Ohio-based company makes components for vehicles specializing in parts and materials that reduce weight and noise. Its customers include Bayerische Motoren Werke AG (BMW), Daimler AG (Chrysler), Ford Motor Co. and General Motors Co.
Shiloh Industries' FRISK® score sank to a "1" in the summer of 2020:
Image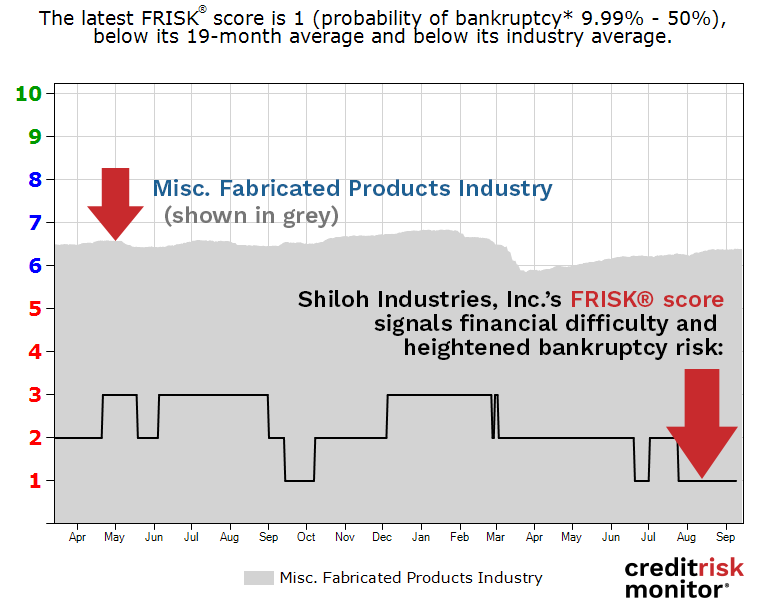 A FRISK® score of "1" indicates a 10-to-50x greater probability of bankruptcy than the average publicly-traded company. We advise all of our clients to monitor any corporation in their portfolio rated with a score between "5" and "1" with extra scrutiny.
Download the free report to learn more.
About Bankruptcy Case Studies
CreditRiskMonitor® Bankruptcy Case Studies provide post-filing analyses of public company bankruptcies. Our case studies educate subscribers about methods they can apply to assess bankruptcy risk using our proprietary FRISK® score, robust financial database, and timely news alerts.
In nearly every case, a low FRISK® score gave our subscribers early warning of financial distress within a one-year time horizon. Our proprietary FRISK® score predicts bankruptcy risk at public companies with 96% accuracy. The score is formulated by a number of indicators including stock market capitalization and volatility, financial ratios, bond agency ratings from Moody's, Fitch and DBRS, and crowdsourced behavioral data from a subscriber group that includes 35% of the Fortune 1000 and thousands more worldwide.
Whether you are new to credit analysis or have decades of experience under your belt, CreditRiskMonitor® Bankruptcy Case Studies offer unique insights into the business and financial decline that precedes bankruptcy.