Beware the "Cloaking Effect"
01/22/2019
Assess financial risk with payment data at your own peril.
Payment history is not merely an inadequate gauge for financial risk in public companies – it conceals their poor financial condition. When a bankruptcy does occur, creditors are unable to collect their accounts receivables and are forced take huge write-downs.
Image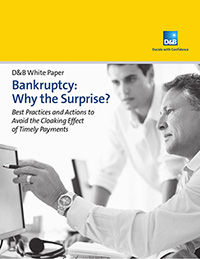 In 2012, based on big-time backlash from their subscriber base, Dun & Bradstreet was compelled to draft a white paper entitled Bankruptcy: Why the Surprise? and coined the term the "Cloaking Effect" to describe the blind spot within their popular PAYDEX® scoring model.
D&B explained that "Some companies pay their credit obligations in a discount or prompt manner right up to the actual filing/closing date."
CreditRiskMonitor subscribers use the FRISK® score because it cuts right through the "Cloaking Effect." The credit model, which doesn't rely on payment history, predicts public company bankruptcy with 96% accuracy.