It's been an unhealthy 2019 for organic foods supplier SunOpta Inc., as indicated by the company's low FRISK® score relative to its peers.
Based in Ontario, SunOpta provides healthy and organic food products that are consumer-packaged to retailers, foodservice distributors and food manufacturers with a range of branded and private label products. Since January, the company's FRISK® score has waffled between a "3" and a "2," (un)comfortably inside the FRISK® score "red zone," indicating a higher-than-normal risk of bankruptcy in the coming year:
Image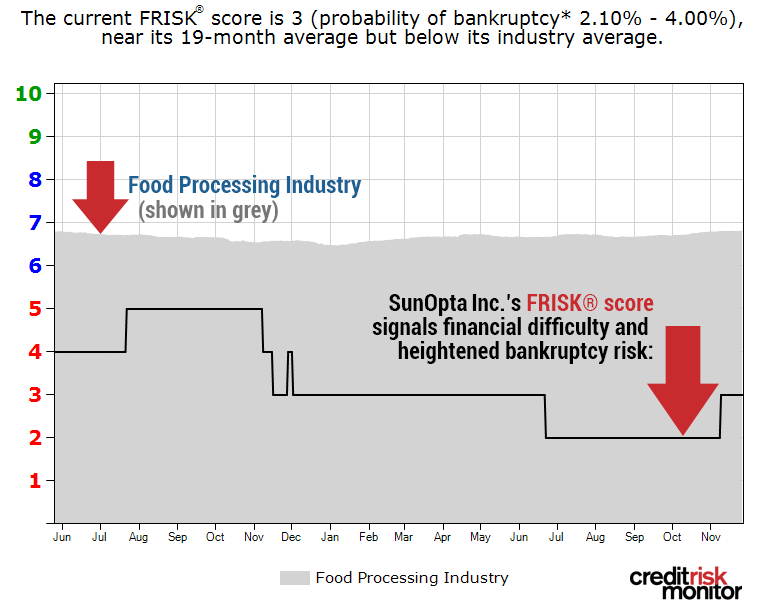 This High Risk Report will take you through the FRISK® score breakdown, what dangers lurk in the SunOpta financials and identifies the important distinction of public company payment history not being indicative of future action. Remember that with greater access to capital and a desire to keep suppliers happy and loyal, a public company will do whatever it can to pay their bills on time right up through the day they file for Chapter 11 protection. Would you want to be an unsecured creditor to a counterparty whose risk you cannot see? Without the FRISK® score, which is 96% accurate in identifiying public company bankruptcies year in and year out, you're flying blind.
Download the free report to learn more.
About High Risk Reports
Our High Risk Reports feature companies that are exhibiting a significantly high level of financial distress, as indicated by our proprietary FRISK® score.
The reports highlight the factors that have pushed a company's score lower on the "1" (worst) to "10" (best) FRISK® score, which is 96% accurate in predicting bankruptcy over a 12-month period. The High Risk Reports also includes analysis on financial indicators such as the company's DBT index, stock performance, financial ratios and how it is performing relative to its industry peers.
The ultimate goal of the High Risk Report series is two-part: provide an early warning for those doing business with an increasingly distressed company and inform of the many signals that should be examined when assessing financial risks.