School's out? Wisconsin-based educational tech distributor School Specialty, Inc.'s total liabilities are 126 times larger than market capitalization, helping lead to a bottom-ranking FRISK® score:
Image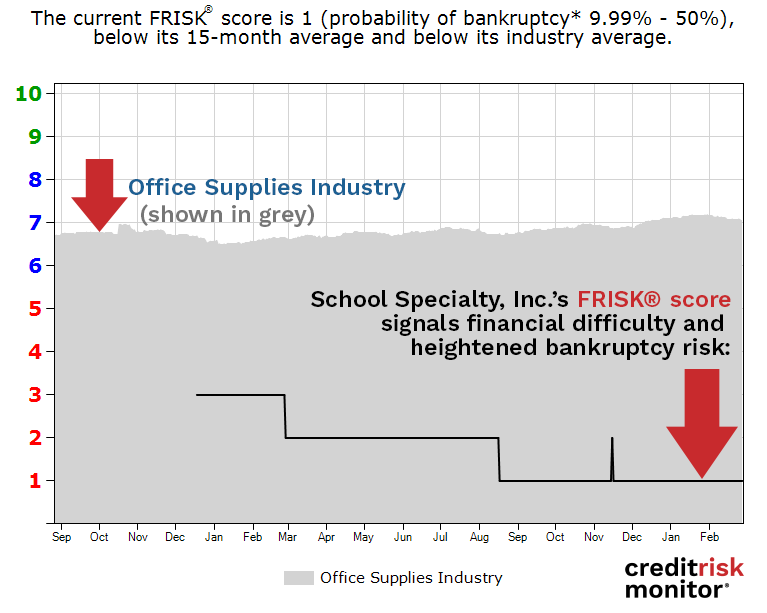 This High Risk Report will zero in on the many factors which have brought the company's FRISK® score down to a "1," which indicates a probability of bankruptcy between 10% and 50% in the coming year.
Also, we show you in great detail why prompt trade payments are not indicative of School Specialty's ability to meet debt obligations in the future. This risk is cloaked and the key reason why public company bankruptcies are missed by financial risk evaluators - much to their chagrin when answering to a livid CFO.
Download the free report to learn more.
About High Risk Reports
Our High Risk Reports feature companies that are exhibiting a significantly high level of financial distress, as indicated by our proprietary FRISK® score.
The reports highlight the factors that have pushed a company's score lower on the "1" (worst) to "10" (best) FRISK® score, which is 96% accurate in predicting bankruptcy over a 12-month period. The High Risk Reports also includes analysis on financial indicators such as the company's DBT index, stock performance, financial ratios and how it is performing relative to its industry peers.
The ultimate goal of the High Risk Report series is two-part: provide an early warning for those doing business with an increasingly distressed company and inform of the many signals that should be examined when assessing financial risks.