Ten Large Corporations Combating Severe Financial Distress
9/25/17
Public company credit risk is often underestimated given the access these companies have to capital markets. This issue is exacerbated given eight years of record low interest rates and ballooning asset prices. Such a sanguine outlook appears increasingly misguided today.
CONTACT US FOR A PERSONALIZED DEMO TO ASSESS THE RISK IN YOUR PORTFOLIO
Based on the FRISK® Stress Index, a bottom-up view of the credit risks across the broader universe of publicly traded companies, aggregate credit risk for U.S. public companies is materially higher than it was just a few years ago. While aggregate risk appears lower today than it was in 2016, some of the "reduction in risk" is attributed to companies filing for bankruptcy. When a company goes bankrupt, it falls out of the FRISK® Stress Index computation. Distress levels, however, are still comparable to late 2008 when the U.S. was mired in a deep recession: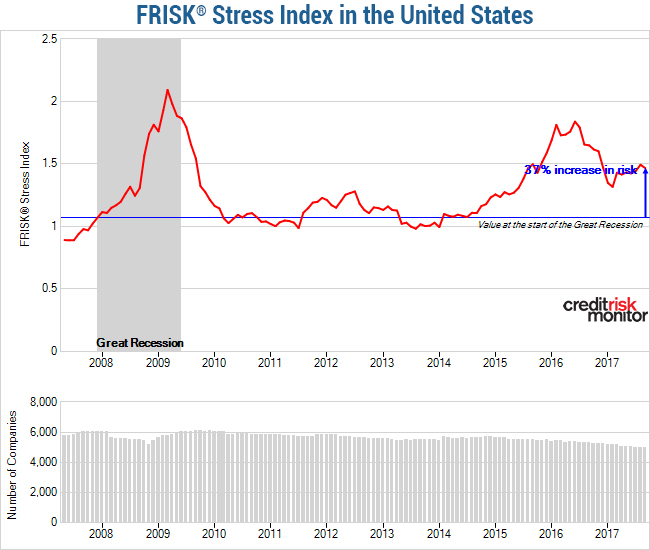 Financial distress is not simply limited to the category of corporate bankruptcies, it also includes loan defaults. A company can default on its debt and still avoid bankruptcy. Financial defaults are actually three times more common than bankruptcy. This statistic is important since most bankruptcy scenarios prioritize banks over trade claims in the repayment hierarchy. 
Distressed Sample
The most distressed industries are still overwhelmingly commodity producers, such as oil and gas companies, and retailers, particularly in the apparel category. The findings materialize with a search within the CreditRiskMonitor site for companies that have experienced some form of financial distress since the beginning of 2017. These events might include loan defaults, distressed exchanges, and/or bankruptcy proceedings. Here are 10 corporations battling such challenging circumstances: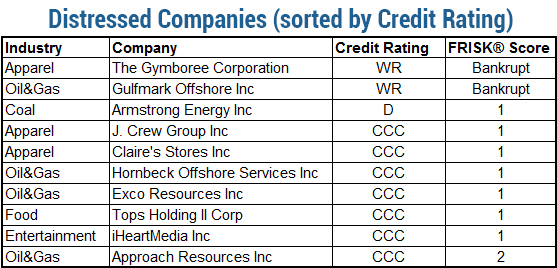 These companies could impact commercial creditors and other financial counterparties, if they haven't already, e.g., Gymboree and GulfMark Offshore. Each company, including Gymboree and GulfMark prior to their bankruptcy filings, shifted between a credit rating of "CCC" and "D" over the last 12 months. This list is a fraction of the many high-risk public companies CreditRiskMonitor tracks in real time. Note that credit ratings are also one of the multiple data components used in the FRISK® model computation.
WANT A FULL BREAKDOWN OF ALL 10 AT-RISK COMPANIES? SIGN UP FOR A DEMO TO VIEW THEIR FINANCIALS, AGENCY RATINGS AND MUCH MORE
Checking Out?
Risk managers use the FRISK® score to help monitor financial risk for their customers and suppliers alike. It provides an early warning of financial risk with 96% accuracy. Armstrong Energy, a coal producer, has held a FRISK® score of "1" since March 1, 2017, which is the lowest possible rating on the FRISK® scale. Less than six months later the company defaulted on its senior secured notes. Management also disclosed in its latest MD&A that it may seek a bankruptcy restructuring.
Renowned retailer J.Crew completed a distressed debt exchange in July 2017. Following that situation, however, the company's leverage has continued to swell. In the second quarter, debt to assets increased to an alarming level of 1.45 times. Any further deterioration in sales revenue and/or margins would likely put the company back in jeopardy with creditors.

iHeartMedia, with more than $6 billion in annual sales, nevertheless is a struggling radio broadcasting company. Primarily due to the company's high interest payments, it is still far from profitable. In the second quarter, its cash and equivalents fell to $260 million, the lowest level over the last five quarters, and working capital slipped to $97.2 million. Debt refinancing options could narrow from here, especially as the sum of maturities over the next three years exceeds $8 billion.
Bottom Line
CreditRiskMonitor's proprietary FRISK® score uses bankruptcy as its "statistical target" because it is the most extreme and most easily measured level of financial distress. Yet the FRISK® score tracks financial distress at all levels and can provide counterparties with an early warning signal of pending trouble, such as a default. For the three operators specifically mentioned above, most if not all of their assets are liabilities, putting trade creditors in a dangerous position. Those with an economic interest in any of these companies should carefully determine if or when a credit default might occur and adjust risk exposure accordingly. But these are just examples of a larger issue: Public company credit risk is widespread and continues to increase. Risk managers should use the appropriate tools to adjust for these risks before it's too late.
*****
The FRISK® score is calculated by a proprietary model that measures the degree of financial distress for a public company. The model has been back-tested over the last decade to predict 96% of public company bankruptcies. The failure score is enhanced by our subscriber base through crowd sourced behavioral data patterns. Provided below is the scoring chart that displays the statistical probability of bankruptcy within the next 12 months for each score category:
The FRISK® Stress Index is a model that provides the average probability of failure for a group of companies (e.g. by industry, portfolio, or country) over the next 12 months. The level of risk is measured through a scale of "0" to "50," with "50" being the most risky.
About CreditRiskMonitor
CreditRiskMonitor is a financial news and analysis service designed to help professionals stay ahead of public company risk quickly, accurately and cost-effectively. More than 35% of the Fortune 1000, plus thousands more worldwide, rely on our commercial credit reporting and predictive risk analytics for assessing the financial stability of more than 56,000 global public companies.
At the core of CreditRiskMonitor's service is its 96%-accurate FRISK® score, which is formulated to predict public company bankruptcy risk. One of four key components calculated in the FRISK® score is crowdsourced subscriber activity. This unique system tracks subscribers' patterns of research activity, capturing and aggregating the real-time concerns of what are essentially the key gatekeepers of corporate credit. Other features of CreditRiskMonitor's service include timely news alerts, the Altman Z"-Score, agency ratings, financial ratios and trends. CreditRiskMonitor's network of trade contributors provides more than $150 billion in trade data on their counterparties every month, giving them visibility into their biggest dollar risks. 
Posts By Category
Posts By Audience