SolarWorld's Insolvency Underlines Solar Industry Credit Stress
6/12/17
SolarWorld AG (ETR: SWVK), one of the largest German-based solar product manufacturers, recently filed for insolvency. Management announced that this unfortunate outcome resulted from ongoing product price erosion, coupled with its cumbersome debt load.
Directly before SolarWorld failed, the company's Z''-score actually provided a healthy reading, trending between 1.2 and 3.2 over the last several quarters. However, SolarWorld's FRISK® score has been deep in the "red zone," the lower half of the FRISK® scale, for more than a year. A FRISK® score in this low range is an important warning sign showing that financial risk, and even bankruptcy risk, is elevated.
CreditRiskMonitor's proprietary FRISK® score, used by more than 35% of the Fortune 1000 and other major companies around the world, offers timely and accurate public company financial risk assessment. Solarworld's downfall underscores, again, the value of this predictive risk tool.
Stay ahead of public company risk: Get a free risk assessment
 Cloudy Year For Solar
However, SolarWorld may not be the end of the industry's trials and tribulations. Our FRISK® Stress Index shows credit risk is still present across the solar industry. The portfolio below consists of a diversified group of public solar companies across the globe:
For context, the FRISK® Stress Index measures the collective probability of failure in a group of companies (industry, country, or portfolio) looking out twelve months. The red line above shows that financial risk is approximately 3.5 times of what it would be for an average industry.
Next To Fail?
Everyone wants to know if and when the industry will turn around. While there are some positive signs developing, it's too soon to call an all clear. By checking individual FRISK® scores within the industry, we can identify which companies are most at risk of financial distress. The weakest names in a declining industry should be prioritized, whether it's for your company's account receivables or for its supply chain.
On that note, another one of the most challenged names in the solar space is Yingli Green Energy Holding Co Ltd (Yingli) (NYSE: YGE). Yingli is a larger manufacturer than SolarWorld, except it's based out of China. Currently, our FRISK® coverage across China and Taiwan totals more than 5,500 public companies.
For Yingli, some of its current weakness stems from a rapid decline in sales revenue and sustained operating losses over the last few years. As of June 12, 2017, Yingli holds a FRISK® score of "1," indicating a 10% to 50% probability of corporate failure looking out twelve months.
If we look further at Yingli's sequential quarter liquidity page, it's a pretty unsettling picture:
The working capital deficit of ¥7.4 billion is a red flag. If we dig deeper into that number, we can see that Yingli's fourth quarter quick ratio showed a year-over-year decline from 0.29 to 0.25. This decline is not severe by itself, but it's still a weak number on an absolute basis, even if we make the aggressive assumption of adding back inventory. Basically, key financial trends are still moving in the wrong direction. One differentiating factor between SolarWorld and Yingli is that Yingli's Z"-score is remarkably weak at negative 8.5 for the period ending December 31, 2016 – just one more signal supporting the fact that the company is in fiscal danger.
Bottom Line
The solar industry is somewhat complex, given its cyclical nature and unusual sales cycle, among other factors. But it's apparent that credit risk is elevated and the weakest operators in this already shaky industry should be on your watch list. The first major bankruptcy was SunEdison, and now SolarWorld has fallen. Yingli Green Energy is unfortunately another vulnerable operator that risk professionals should watch closely. The takeaway is that danger is far from isolated, but the FRISK® score is clearly useful for monitoring credit risks, both large and small.
Stay ahead of public company risk: Get a free risk assessment
*****
The FRISK® score is calculated by a proprietary model that measures the degree of financial distress for a public company. The model has been back-tested over the last decade to predict 96% of US public company bankruptcies. The score is enhanced by our subscriber base through crowdsourced behavioral data patterns. Provided below is the scoring chart that displays the statistical probability of bankruptcy within the next twelve months for each score category: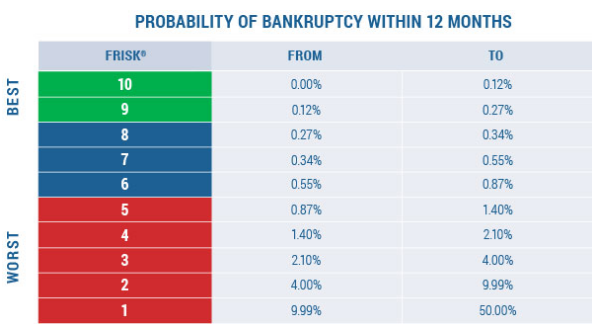 The FRISK® Stress Index is a model that provides the average probability of failure for a group of companies (e.g. by industry, portfolio, or country) over the next twelve months. The level of risk is measured through a scale of 0 to 50, with 50 being the most risky.
About CreditRiskMonitor
CreditRiskMonitor is a financial news and analysis service designed to help professionals stay ahead of public company risk quickly, accurately and cost-effectively. More than 35% of the Fortune 1000, plus thousands more worldwide, rely on our commercial credit reporting and predictive risk analytics for assessing the financial stability of more than 56,000 global public companies.
At the core of CreditRiskMonitor's service is its 96%-accurate FRISK® score, which is formulated to predict public company bankruptcy risk. One of four key components calculated in the FRISK® score is crowdsourced subscriber activity. This unique system tracks subscribers' patterns of research activity, capturing and aggregating the real-time concerns of what are essentially the key gatekeepers of corporate credit. Other features of CreditRiskMonitor's service include timely news alerts, the Altman Z"-Score, agency ratings, financial ratios and trends. CreditRiskMonitor's network of trade contributors provides more than $150 billion in trade data on their counterparties every month, giving them visibility into their biggest dollar risks. 
Posts By Category
Posts By Audience