Global Transportation May See Further Supply Chain Disruption
10/12/16
Hanjin Shipping (KRX: 117930) stakeholders were blindsided by its abrupt filing for bankruptcy. The shipping industry in general, especially for shipping liners, has been a brutal race to the bottom.
After the Hanjin news broke, we did exactly what many of our subscribers likely did and conducted an in-depth review of the 14 major shipping companies in our database to see if Hanjin was an isolated case or a symptom of bigger trouble.  According to our research and analytics platform, we found a few companies that look very stable, which include: AP Moeller Maersk (CPH: MAERSK-B), Wan Hai Lines Ltd (TPE: 2615), and Nippon Yusen Kabushiki Kaisha (TYO: 9101). Conversely, half of the shippers we are tracking face financial distress on some level, with one shipper looking particularly weak. That company is the well known Taiwan shipper Yang Ming Marine Transport Corp (TPE: 2609). 
Another Sinking Ship?
Yang Ming MTC is the 9th largest shipping liner globally based on containership capacity, holding an estimated 2.8% of total share. A Taiwanese credit rating agency currently ranks Yang Ming MTC as investment grade with a credit rating of BBB1. The thesis is intrinsically supported by easy access to cheap credit while the company awaits a sustained industry recovery.
However, we don't think it's that simple. Yang Ming has been burning cash, recording negative annualized free cash flow each year since 2011. Regarding interest coverage, we took normalized EBITDA over the last 5 years and compared it to the current net debt balance, which brought us to a net debt/EBITDA of 26x. This figure is much higher than our adjusted sample set average of 10x. Furthermore, viewers will see below that a number of the company's key liquidity ratios have deteriorated substantially over the last twelve months:
It's pretty clear from the data that Yang Ming is facing hard financial times. Our proprietary FRISK® score sums these troubles up in one number that is constantly updated and can be accessed by our subscribers at any time.
For reference, here's the full list of the 14 shipping companies and their FRISK® scores:
A FRISK® score equal to or less than 5 indicates financial distress. For a timeline on Hanjin's recent bankruptcy, its FRISK® trended from a score of 4 down to a 2 between June and November 2015, which implied that underlying stress was developing rather quickly. By February 2016, the FRISK® dropped to the critical level of 1 which was indicative of extreme distress. This warning sign was provided about 6 months before management filed for receivership on August 31, 2016.
Similarly, the FRISK® score for Yang Ming MTC has fallen from a score of 4 in November, 2015 to a 2 in December, 2015. From a statistical viewpoint, this score of 2 effectively translates to a credit rating less than B. That barometer provides customers, partners, suppliers, and investors a general idea of the risk they are facing today.
To further illustrate the weakness Yang Ming is facing, the company's Altman Z-score has been dropping like a rock. The Z-score is another effective measurement of corporate financial health that is currently indicating heightened risk. Note the material change in the Z-score over the last several quarters:
Recovery Inbound?
For context, industry insiders and analysts appear confident that an industry recovery could materialize soon, and we agree to an extent. A gauge of global trade health is the Shanghai Containerized Freight Index2, which appears to have stabilized so far this year:
One big piece of this is that the supply side seems to be improving as new build orders have hit their lowest levels in decades. Coupled with normal ship scrapping trends, tightening supply should develop sooner rather than later.
However, demand still appears tepid as the global economy is experiencing lower growth relative to historical standards. Many economists are also particularly wary of China's slowing growth and various political threats that could impact global trade. The World Trade Organization also revised down its global trade growth from a previous 3.6% target to a far more modest midpoint of 2.45%. So while the shipping industry appears to be adjusting to a difficult market, it may have further to go before a solid turnaround takes hold.
Mayhem Takeaway
Unfortunately, many shipping lines are still highly distressed, which introduces the idea that global transportation may see further supply chain disruption. Hanjin's bankruptcy woke risk managers up around the world to the direct and indirect risks that the shipping industry poses to their top- and bottom-lines. Once you've looked at the industry a little more deeply, the real takeaway is this:
Is financial distress present in the industry? Absolutely.
Could there be another shipping bankruptcy like Hanjin? It's very possible.
READ A POST-BANKRUPTCY ANALYSIS OF HANJIN SHIPPING CO., LTD.
*****
1Source: Taiwan Ratings: Yang Ming Marine Transport Corp.
2Source: Shanghai Containerized Freight Index
*****
The FRISK® score is a proprietary model that provides a score that measures the degree of financial distress for a public company. The model has been back-tested over the last decade to predict 96% of public company bankruptcies. The failure score is enhanced by our credit subscriber base through crowd sourced behavioral data patterns. Provided below is the scoring chart that displays the statistical probability of bankruptcy within the next twelve months for each respective score: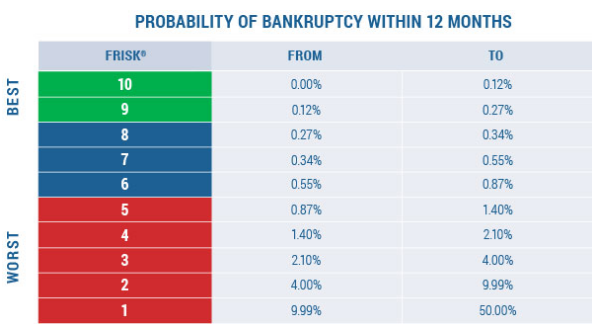 FRISK® Stress Index is a model that provides the average probability of failure for a group of companies (e.g. by industry, portfolio, or country) over the next 12 months. The level of risk is measured through a scale of 0 to 50, with 50 being the most risky.
About CreditRiskMonitor
CreditRiskMonitor is a financial news and analysis service designed to help professionals stay ahead of public company risk quickly, accurately and cost-effectively. More than 35% of the Fortune 1000, plus thousands more worldwide, rely on our commercial credit reporting and predictive risk analytics for assessing the financial stability of more than 56,000 global public companies.
At the core of CreditRiskMonitor's service is its 96%-accurate FRISK® score, which is formulated to predict public company bankruptcy risk. One of four key components calculated in the FRISK® score is crowdsourced subscriber activity. This unique system tracks subscribers' patterns of research activity, capturing and aggregating the real-time concerns of what are essentially the key gatekeepers of corporate credit. Other features of CreditRiskMonitor's service include timely news alerts, the Altman Z"-Score, agency ratings, financial ratios and trends. CreditRiskMonitor's network of trade contributors provides more than $150 billion in trade data on their counterparties every month, giving them visibility into their biggest dollar risks. 
Posts By Category
Posts By Audience