Falling Restaurant Sales Hint Trouble
10/24/16
Cosi Inc. (NASDAQ: COSI), a prominent name in the fast casual dining space, filed for bankruptcy in late September this year. The company's descent was prompted by weakening industry conditions in addition to the problems it faced internally. Should industry watchers, whether it is suppliers, procurement, landlords, or investors also be concerned about other restaurants falling into financial distress?
The simple answer is, yes. Same-store sales for the restaurant industry have been effectively flat to negative since February, 2016. The two primary causes are weaker consumer sentiment, and perhaps more importantly, the increasing cost of dining out.
In McDonald's (NYSE: MCD) latest conference call, CFO Kevin Ozan stated that, despite relatively low commodity costs, incrementally higher food prices from restaurants is becoming a problem. In the second quarter conference call he detailed the issue of US regional pricing for McDonald's, where its food prices have risen faster than those of the industry as a whole:
"In the US, second quarter pricing year-over-year was up about 3% compared with food away from home inflation of 2.6%. Given the widening gap...we continue to track both of these metrics very closely."
This is a potentially large issue for the industry giant. But the bigger problem for McDonald's and the entire restaurant industry may be summed up in this statement from the CFO:
"As it stands, food at home is projected to increase modestly from relatively flat to up about 1% for the full year, while food away from home inflation is projected to increase between 2.5% and 3.5%."
Getting Worse?
If we look at that bigger picture, higher restaurant food prices offsetting higher operating costs could become a lingering problem for traffic. According to the USDA, this trend is expected to intensify in the years ahead.
As shown above, by the end of 2017, the cumulative forecasted inflation for food-away from home will be approximately 5.5%, whereas food-at-home will run closer to just 1.5%. If these ballpark numbers develop, or are even close to that mark, there could be roughly a four percentage point spread between the two categories. This amount is significant and could impact all types of restaurants whether it is fast-food, casual, or otherwise.
As another example of the problem, Dunkin Brands Group (NASDAQ: DNKN) has been hiking product prices to combat higher labor costs. While management maintained their positive outlook, CEO Nigel Travis, did acknowledge concerns coming from its business operators: "The franchisee leadership have said we went too far on price increases and we got to get it under control."
And while Dunkin Brands management held its 2016 same-store sales guidance of 0-2%, analysts questioned whether that target was realistic. One analyst suggested that same-store sales would most likely be at the lower end of the range and implied that traffic could fall further leading into next year given current conditions.
That being said, if best-in-class branded companies are facing challenges, what are the implications for the marginal players?
Bottom of the Barrel
Lower consumer spending in an extremely competitive industry is like fighting an uphill battle, which we think will only accelerate the downfall of inferior business models. Our proprietary FRISK® score indicates when a company is experiencing financial distress, and can even signal if and when a corporate failure may occur.
In the case of Cosi Inc., subscribers watched in real time as the company's FRISK® score incrementally fell from a score of "5" to a "1" over the twelve months leading up to its eventual bankruptcy:
A FRISK® score of "5" implied modest financial weakness, whereas the lower score of "1" was indicative of a highly distressed situation. In addition to other resources we provide, our subscribers would have had adequate time to take the steps necessary to mitigate their risk exposure before the company's abrupt filing for restructuring in late September. 
This issue is far from over, and certainly not contained to a single name. According to our FRISK® Stress Index, there are a handful of companies in this space that appear financially distressed, a few of which are showing particularly rapid deterioration. We will address two of those companies, Noodles & Co. (NASDAQ: NDLS) and Ruby Tuesday Inc. (NYSE: RT), in our next update, and also take a deeper look at the issues hitting the industry.
Read our post-bankruptcy analysis for a more in-depth review of Cosi's decline
*****
The FRISK® score is a proprietary model that provides a score that measures the degree of financial distress for a public company. The model has been back-tested over the last decade to predict 96% of public company bankruptcies. The failure score is enhanced by our credit subscriber base through crowd sourced behavioral data patterns. Provided below is the scoring chart that displays the statistical probability of bankruptcy within the next twelve months for each respective score: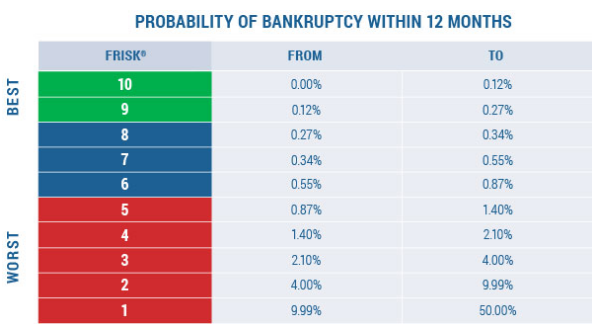 The FRISK® Stress Index is a model that provides the average probability of failure for a group of companies (e.g. by industry, portfolio, or country) over the next 12 months. The level of risk is measured through a scale of 0 to 50, with 50 being the most risky.
About CreditRiskMonitor
CreditRiskMonitor is a financial news and analysis service designed to help professionals stay ahead of public company risk quickly, accurately and cost-effectively. More than 35% of the Fortune 1000, plus thousands more worldwide, rely on our commercial credit reporting and predictive risk analytics for assessing the financial stability of more than 56,000 global public companies.
At the core of CreditRiskMonitor's service is its 96%-accurate FRISK® score, which is formulated to predict public company bankruptcy risk. One of four key components calculated in the FRISK® score is crowdsourced subscriber activity. This unique system tracks subscribers' patterns of research activity, capturing and aggregating the real-time concerns of what are essentially the key gatekeepers of corporate credit. Other features of CreditRiskMonitor's service include timely news alerts, the Altman Z"-Score, agency ratings, financial ratios and trends. CreditRiskMonitor's network of trade contributors provides more than $150 billion in trade data on their counterparties every month, giving them visibility into their biggest dollar risks. 
Posts By Category
Posts By Audience